Finalé F-168 II
2018 Debut / 6BM8 Tube Integrated Amplifier
After 8 years of being our biggest seller, and repeatedly told this is the best tube integrated amplifier they heard, we would like to thank you our customer by offering the all new generation of this F-168, from best to the finest! The pocket reference of all push pull integrates.
So how can we make it even better than the "best"?
NEW LOOKS AND STYLE - We listen to our customers! They like open architecture / simple minimalist style with "toobs" showing =)

HIFI Transformers - Now we got the oldest and biggest HIFI transformers maker in the world to OEM us the desired proprietary spec and meeting outcomes with want to see. Authentic HIFI grade and quality, and these transformers are all hand made in Canada! CSA / UL Compliance. This is the biggest improvement over the last generation, which uses less Hi-Fi audio transformers with cut off highest bar and lowest note. Now it can - it is true full range response of 30hz - 20khz!

Higher Quality Parts - We now uses our own high end parts and bites, such as The rose-gold plated RCA input jacks, and the stainless steel solid volume knobs...etc. They are engineered to work best, sound best, and last best. And easily the best on the market.

New Circuit Design - While overall is same to the Niagara and the F168 N Spec, the MK2 have been remapped to use our new HIFI spec transformers, as well using more HIFI caps and resistors. And yes, our unique A.D.F.S Technology is still in use! It is also feedback less, and why the F168 always sounded good with all kind of speakers!

Size - Even more compact , just slight bigger than a letter paper. Measuring 13.5 " wide x 9" deep only. Tube cage is included now.
And a new, not so high end price tag : MSRP : $2,800 CAD
Finale-ly: A Finale F-138 FFX Owner Takes The New F-168-II Integrated For An Extended Spin It's always [...]
Quick Fact:
Class AB1 Push Pull

10W+10W

Powered by a quad of 6CM8 / ECL82 Tubes (Auto-bias)

6 Ohms Speakers Out (4/8 ohms speaker compatible)

Total Harmonic Distortion: Less than 1%

Hum & Noise (A-Weight) : 90 db or better at rated output power (Conservatively rated)

Frequency Response : 20-20,000 HZ +/- 1 db at 1 Watt

Input Sensitivity and Impedance : Main Input - 465 mv / 100k ohm
Parts Highlights:
Hammonds x Finale Design Power Transformer (120/240V CSA/UL Compliance, Canada Made)

Hammond x Finale Design Canada Output Transformers 10W HiFi Push Pull Output Transformers (Canada Made)

Hammond Canada Choke Transformer

Mundorf's Germany EVO Coupling Caps

Finale's Pink-Lingu Rose-Gold RCA Inputs (2 Pairs)

Alps Japan Blue Vol Control / Lorlin UK Selector Switch

High quality plastic binding post, ceramic socket, copper wires for signal path and premium resistors / capacitors
F-168R SIGNATURE SPEC:
HASHIMOTO (Sansui of Japan) Output Transformers (Hifi Potted)

CMC USA Speaker Binding Posts

Furutech Gold AC Inlet

Triode Lab Stainless Steel Solid Knobs / Hand polished (Canada Made)

Mundorf Germany Evo OIL Coupling Caps

Circuit-remapped for superior high frequency response and realism potential offered by the Hashimoto Transformer. Most other brand of output transformers went out of steam or measure rough long before they get up here . It also has the fewest insert (energy) loss and good measurements , which allow the use of fewest negative feedback or circuit compensations , resulting more power / better control / higher performance and fewest distortion while maintain a good natural and euphonic playback.

$3,200 USD / No Discount / Lead Time Required

Limited Time Offer - A NOS SET of RCA 6BM8 is Included. This is highly collectable and money can't buy as it is near impossible to buy a QUAD of same dated NOS 6BM8s today as of 2019-2020.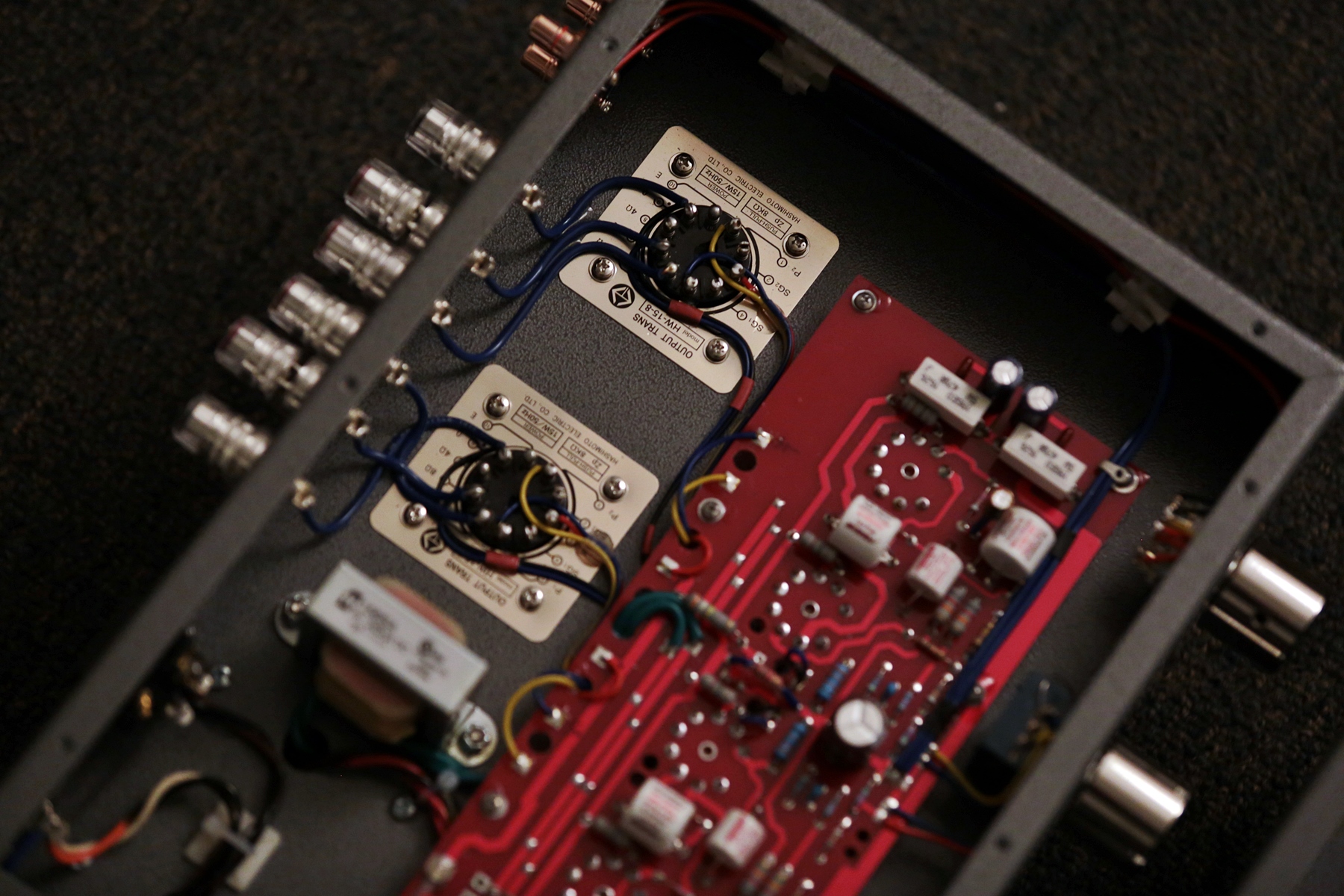 Story:
Remember the sound of the playback of the big old TV or tube receivers in the past, when the kick-drums of the live band on TV shows sounded realistic, full and really kicking? A lot of those systems were powered by 6BM8/ECL82 tubes - a tube that has both a pre-amp and power tube section in one envelope. We always liked this tube, not just for the memories and nostalgia, but also because it produces a good stereophonic sound.
We use this integrated-amplifier-in-a-tube to power the F-168. The tube is placed in an automatic differential feedback system circuit — to maintain the best control and stability, while having minimum phase and sound shift — for the most realistic sound playback.
Although this is one of our least expensive amplifiers, rest assured that you are purchasing an innovative, well-designed circuit — one that has never been heard in the past nor seen on the market! We bring the same attitude of innovation and striving for excellence to all the products we build, from our entry-level to our high-end models.
Now, take the leap, and get a sip of the high-end tube sound with this F-168!
Looks entry-level and simple, but is high-end enough to be the sole amp of your system.
(Depends how well the end user put the system together)
First Time Customer feedback : (Direct and copy 100%)
"It's been a year (time flies) since I purchased the F-168 and amazingly I still have it, I go thru amps like some go through underwear! I purchased a "EE" with the same tube compliment (6bm8 push pull). Fortunately the seller also included a matched quad of NOS RCA Holland. My goal was to compare the two amps and keep the one that I preferred. The "EE", that received excellent reviews, to my ear sounded thin in the mid and low frequency range, like a transistorized amp and was blown away by the F-168. Needless to say I sold the "EE", which sold very quickly on A-gon, and kept the F-168 and the RCA tubes which sound excellent in the F-168!" P. Casalino of NJ - USA
First Time Customer feedback : (Direct and copy 100%)
" I'm writing to say that I've fallen in love with my F168S. It's totally amazing. I've had about 40 amplifiers and I've never heard an amp sound so 'live' and have such an amazing, and realistic, soundstage. It sounded rough at first. At the 100 hour mark, I wasn't sure it was special, and I only keep special amps. But I knew it might need more time. So I was patient. At the 250 mark, me and my favourite amplifier got knocked out. The sound-staging became huge, the treble was no longer splashy, the bass lost it's thud, the performances were real! I'm shocked. I've never heard such a big transformation between new and broken-in before.
This amp is very intense, and therefore not for everyone, but I love it! It has the excitement of real life. The thrill, the sound! Brass instruments are the finest I've ever heard. Ever. I played saxophone (mostly alto, some tenor) for many years, and this little amp recreates them in the most real way I've ever heard!! It's the first amp I've had that nails that sound, and that's saying a whole lot. Note i never emailed you saying this about the 2A3. It's good too, but for my tastes and my system, the 6BM8 is king. Wow! You stumbled on a real gem here. It's my new favourite amplifier, and that doesn't happen often. So I had to tell you. Thank you so much for making it.

Arthur B of Blacksburg, VA, USA