DISCONTINUED
Integrated Amplifiers
F-3008S 300B Reference Integrated
F-3008S - with further customization to have a unique piece-of art deco hifi equipment in your home.
Upgrades also guaranteed to include:
Triode Lab Model .38 Output Transformers (Custom in house design transformer to excel the 300B tube)

Mundorf Germany's Supreme Silver Oil Caps

CMC Binding Post (or upgradable to Cardas)

Alps Japan BLUE Velvet Volume Potentiometer

QQQ Japan rectifier tube socket

Mundorf M-Lytic HV E-Cap
MSRP $6,500 USD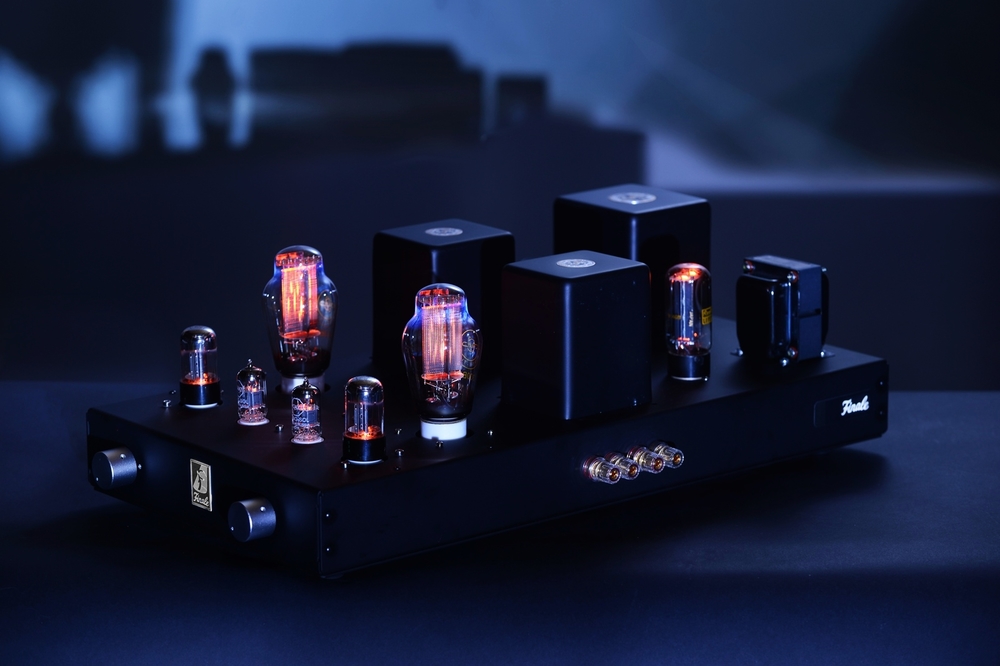 Finalé F-108 / F-108R Stereo Tube Integrated Amplifier
Quick Fact:
Class A

5W + 5W Autobias (Max 5.7W)

Single Ended Pentode / Powered by EL84/6BQ5/7189

Driven by 12AX7/ECC83 Our all time favourite pre-amp / driver tube

Tube rectified by 6CA4/EZ81 Separated tube rectifier stage for better noise separation and, like the vintage amps and the purest preferred, being rectified by tube, higher to cost, but no hold barrette for us!

6 Ohms Speakers Out Standard

Optional 8 ohms and 4 ohms version available on special order at no extra cost

3 Sets of Inputs (New/Standard for 2015)

7.5" W x 15" D X 7" H (Similar to an A4/Letter Sized Paper)
Quick Overview / Manual (PDF)
Design Philosophy:
Story: The F-108 family of Finale amplifiers features single-ended EL84 / 6BQ5 circuitry that we have used and enjoyed for decades. Ever wonder why so many people who care about sound quality prefer this amplifier's (circuit's) low-wattage refinement over solid state amps, or even single-ended triode-circuits? The key is the unique voicing and refinement of the El84/6BQ5 tube itself that compares well to most other tubes in the sweetness, transparency and holographic department — and you'll be surprised with its bass, attack and speed! Our Class A, single-ended circuit gets the best out of these tubes.
We have opted to give the F-108 subtle looks and simple features, and focus our resources on providing high quality parts and transformers. Although this is our entry single-ended amplifier, it is as quiet, sharp and stunning as any other we have designed and made. Its amazing giant-beating sound makes it a true bargain.
Don't be fooled by its kitten size, it can roar like a lion and sing like a bird!
MSRP $1,599 - $2,499 USD
DO YOU KNOW:
Output transformers are a very important part of tube amplifiers, especially in single-ended design. Different output transformers portray music differently — they are like the transmissions in cars. Even if you have an engine that has thousands of horsepower, if you do not have a good transmission (transformer), you are not going to get the engine's maximum power potential. On the other hand, if you have a better transmission, you always get more power to the wheels (same as tube amps), AND the car will drive better, pulls stronger and more quietly too.
Real HiFi grade transformers are expensive because they are hard to engineer and master. I have had a business winding high-quality transformers, and understand how tricky this can be. Because of this, a good transformer comes with a high price tag (especially those made by established audio transformer manufacturers). This is why experienced tube audiophiles will pay hundreds and thousands of dollars to get good transformers. The choice of transformers can make a dramatic difference in final sound, even with the the same circuitry.
First Time Customer feedback: (Direct and copy 100%)
"Just wanted to let you know that the amp arrived in perfect condition and is working beautifully. I have to admit, the amp is already exceeding my lofty expectations and is one of the finest amps (tube or otherwise) that I have ever had in my system. I have been completely dumbfounded by how a SE tube amp can have a noise floor this low. My Zu speakers are EXTREMELY sensitive to amp noise and I literally hear no noise when it is turned up and my ear is right next to the speaker. The only amp I have had that could compare is a hi end digitial PWM amp that literally sends no output unless it is being fed a signal. Truly remarkable. And it's ability to have such a smooth, fluid sound and yet be as detailed as it is is astounding.

Thank you again for building such a quality product and can't wait to hear how the sound matures after I've put some more significant hours on the unit. And I will let all my friends know about this amp as well. I have a friend that recently purchased the same speakers as mine and is looking to me for an affordable amp recommendation. I wonder what I will suggest.... :)

Dave S of Chicago, IL, USA
Finalé F-168 (Original MK1) Stereo Tube Integrated Amplifier
Quick Fact:
8W + 8W Rms @ 8 Ohms

Push Pull Pentode Auto bias Class AB

Powered by one quad of 6BM8/ECL82 Tubes

A.D.F.S Technology (Automatic Differential Feedbacks System) - By applying positive and negative feedbacks together at the same time, to maintain the best control and stability, while having minimum phase and sound shift for the most realistic sound playbacks. This is perhaps the most advanced design of its kind on the entire market!

14"W X 9"D X 7"H Approximately

$1699 USD - 2099 USD

Debut 2009
Optional N-SPEC Upgrade : A wolf in a sheep's clothing!
Available starting 2017 : $2,099 USD / $2,699 CAD - A new Niagara design in F-168 clothing; a wolf in a sheep's clothing. Power upgrade to 10W Max, with upgraded power supply and grounding circuitry design, including same high end regulating circuitry found on the Niagara, which allow the most accurate voltage and supply for each tube to boost its potential and even wear. This compact tube integration is often used as a pocket reference for us on different occasions and speakers tuning, it is also hand-built to last!
F-168 Tube Integrated Amplifier Quick User Manual
Finalé F-208a&b / F308a / F-7189a Stereo Tube Integrated Amplifier
Quick Fact:
10W Class A for F-208A & B / 15W for F-308 / 17W-20W for F7189a-MK1

Push Pull Class A or Class AB for F-308 / F-7189a

Auto-bias

Driven by SEA Driver with 12AX7/ECC83 Per Channel - Our all time favourite pre-amp/driver tube

0-4-8 Ohms Speakers Out (16 ohm available)

Last MSRP $2,099 USD - $3488 USD

Made 2009 - 2017
Design Philosophy:
The F-208A is our highest dollar-to-refinement ratio amplifier. This unit combines the most silky, high-quality playback with 10 Watts of Class A, real world drivability. Fully automatic, it needs only 6 tubes and is ready-to-play without the headache of matching the EL84 power tubes (however, you will want to match the two 12AX7 pre-amp tubes).
Although it is an integrated unit, we find that the superb inner details, proper weight and joy of music, real life transient speed and quiet, stable operations will beat a lot of the current pre-amp-power amp combinations — especially if you are looking for the best sounding EL84 Integrated Amp under $2K.
On second thought, forget that -- we have heard, serviced, and seen tons of tube amps around the world, new or old, entry or exotic -- and, regardless of price, this is one of the best you'll hear, period!
User Manual for F208's / F308's / F7189a (PDF files)