The Maestro and M-6 was sold between 2015 -2020 , and as per strong request of customers and dealers , a open-architecture 6922 pre-amplifier will be used starting 2020. The chassis and looks will be align with our new Dealer Line and finished in British Racing Green Metallic.
MAESTRO Tube Preamplifier
The Maestro pre-amp will sit in between the PRELUDE , M6 and our flagship CONDUCTOR.
It features two 6U8 (One each per channel), and the same, but enhanced, excellent tube power supply and phono stage (100X) design from the PRELUDE.
This is perfect for those who would like more gain/drive than the PRELUDE to match their speakers/amp, but to maintain a one-box solution. With one powerful 6U8 per channel, the MAESTRO will easily yield a 6-8X Gain (Depending on the exact tube being measured with, and time of the day), which almost doubles the gain of the PRELUDE of 4-5X Gain. It uses direct coupling design, for the lowest possible phase shift. The pentode section of the 6U8 is used as the input amp and the triode section for impedance matching and cathode follower. We are happy to announce this will be a very low distortion pre-amplifier, this is as good or, even, better, to the famous legendary M-7 design. With one more tube than the PRELUDE and slightly more complicated circuitry, we decide to offer an optional DC power supply stage to lower the working noise further for those who thought it is needed, which benefits both line stage and the phono stage (AC heated is default and we think it sounds better). Further distinguish to the Prelude, the MAESTRO is a classic analog design over the hybrid design on the Prelude - the MAESTRO line stage does not have any transistors making it more pure analog sound, but it will also drive all kinds of amplifiers whether it be low-powered tube amplifiers or high-powered solid state amplifiers.
To those who are not familiar with this tube, it is commonly used for studio and broadcast tasks, in USA and Europe. We like it over the 6922 because it has the same brilliant highs, but, in our opinion, with even better mid to low reproductions. There are also plenty of authentic NOS supplies too.
And did we tell you there are at least 5 tubes, including 6U8s, 6BL8/ECF80, ECF82/ECF802 and 6GH8 that you can use?
Same as the PRELUDE, there will be a 12BH7 or a 12AU7 for the regulating duty, both tube will sound different and safely exchangeable, but the 12BH7 will last longer due to the fact it's a bigger/more powerful tube.
The Maestro come with full out upgraded parts and bits : Mundorf Evo Supreme SILVER GOLD Coupling Caps, CMC Gold RCAs, 1877 Phono Gold Ground Post, TKD or Alps Blue Vol Pot, Elna / DACT Selector Switch, Furutech RHODIUM IEC, Hammonds Canada Choke Transformer, HASHIMOTO Power Transformer...etc. 2017+ NEW : Triode Lab Stainless Steel Knobs (Hand made/polished in Canada - MSRP $80 CAD each)
Options : Dual Outputs $150/Free acrylic face-plate delete (For those who want the deep sheen metallic copper finish to show), DH Labs USA RCAs $30 Pair
MSRP $6,999 CAD/USD/EURO, well-equipped with no options.
Finish : Coppertone chassis / Black acrylic face-plate and top cover
Accessory : The "Gold Podium", a plinth/platform made with a thick 3/8" solid aluminum plate, which adds weight and stability, along with better resonance/damping control characteristic thru using HiFi quality footers, and high quality rubber isolations between the plinth and the chassis. $500.00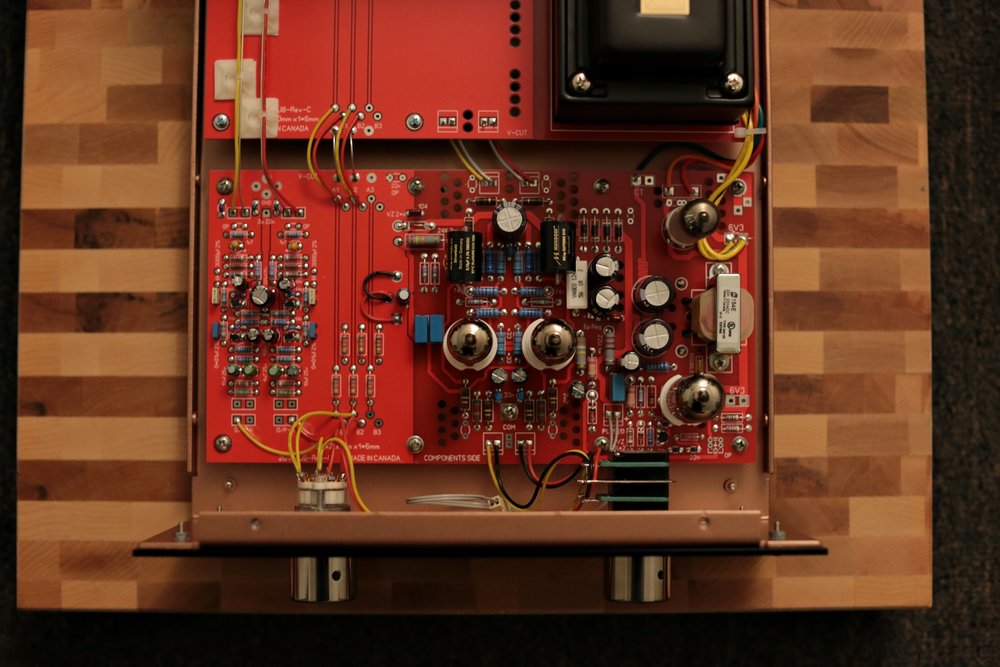 MAESTRO SIX (M-6) Tube Preamplifier with Phono Stage
The M-6 pre-amp is the twins to the Maestro, Six indicates it uses the very popular 6922/6DJ8 instead.
It features two 6922 or 6DJ8 (One each per channel), and the same but enhanced excellent tube power supply and phono stage (100X) design from the PRELUDE/Maestro/Triode Lab's Au Pres. This model is made to the popular request, as many audiophiles liked the good sound, authority and quietness of the 6922/6DJ8. In fact, the 6922/6DJ8 tube is widely available new or nos.
Why we created the Maestro 6 ...
This is made for the "audiophile" familiar with tube amplifiers and in this case knows or appreciates (on hearing) how the 6922 sounds. The 6922 (6DJ8) is one of the most commonly used preamp tubes for Hi-Fi applications.
On the mechanical side, the 6922 tube offers low noise and power. However, it does have higher internal heat. Which means if the circuit design isn't flawless, then there is always a greater chance to end the 6922's life unexpectedly. With our M-6, unlike most other 6922 designs on the market, we use low voltage instead of high voltage. This means you will have to change less tubes and less chance of a problem down the road.
The line stage deign is a two stage configuration, running single ended Class A, with one stage working as voltage amplifier, and one stage used as cathode follower. So what are the advantages of using a cathode follower? It allows us to connect multi-outputs, it won't lose gain, has the power of driving solid-state amps, and no need to worry about running longer interconnect cables.
To have everything working at optimal parameters (including numbers/specs), the power supply is equipped with a power regulator to ensure a stable power supply thru out the day and night, and that it sounds / performs / measures the same around the clock. Of course this also ensures the preamp is operating at its best condition mechanically speaking, and quiet. We use tubes for rectification and regulating, (6Z4 for the power supply and 12BH7 for regulating).
What makes the M-6 different?
1. Phono stage, a 100x design that will take MM and hi output MC carts. While not a unique design, this is not just a quick parts insert procedure, and I really want to point out NO IT ISN'T. As a result, ours will be much quieter in comparison to most. And that is crucial because that is the foundation of your vinyl source. Imagine you have a good MC amp or step up, but it's useless when your line stage and phono stage is not quiet enough - the upstream source always dictates the final result even when you have the best counterpart power amp.
2. What make this 6922 unique-in design and sound? It is a direct coupling design without coupling caps in the way. The result - the bass response is better utilizing direct coupling and it will sound more direct, and accurate. Finally, and perhaps most important, there is no phase shift between 0 Hz to 20 kHz.
3. We also applied what I consider a perfect amount of NFB, where appropriate, for better performance, safety, and muscality. And as long the 6922 / 6DJ8 is not too old and have no mirco-phonics, even down to 50% life, the preamp will still work as it should, and safely. This preamp is just made for the audiophiler's who already has a bunch of tubes.
As powerful and high quality to the Maestro, the M-6 offers 8X gain of Pre-amplifications that measures even quieter.
In comparison to the Maestro :
The M-6 is Quieter/Cleaner/Controlled/Higher Gain/Super-accurate sounding (If you look carefully, you can see the Maestro uses high-end Mundorf's coupling caps, but we don't use any on the M-6, and the 6922/ECC88 will dictate the sound of the M-6), where as the Maestro comes in totally opposite tune - Warmer/Open/Natural/Vivid/Colorful. Both can be an end-game tube pre-amplifier through perfect matching to your power amplifier counterpart. For example, the M-6 is perfect for musical tube power amplifiers, such as our F-138/F-300B & MB & RS/F-7591/F-40II/F-120II MB and so on. On the other hand, the Maestro is perfect for big power solid state / hybrid amplifiers, and will blow life and colours into them that even their matching solid state pre-amp cannot be done. If you want a hybrid system or add some tube favours into your system, this is it.
Each of their own sound is distinctly good for two different bunch of listeners.