The Conductor
Reference Grade Line-stage Preamplifier
(No Feedback Edition)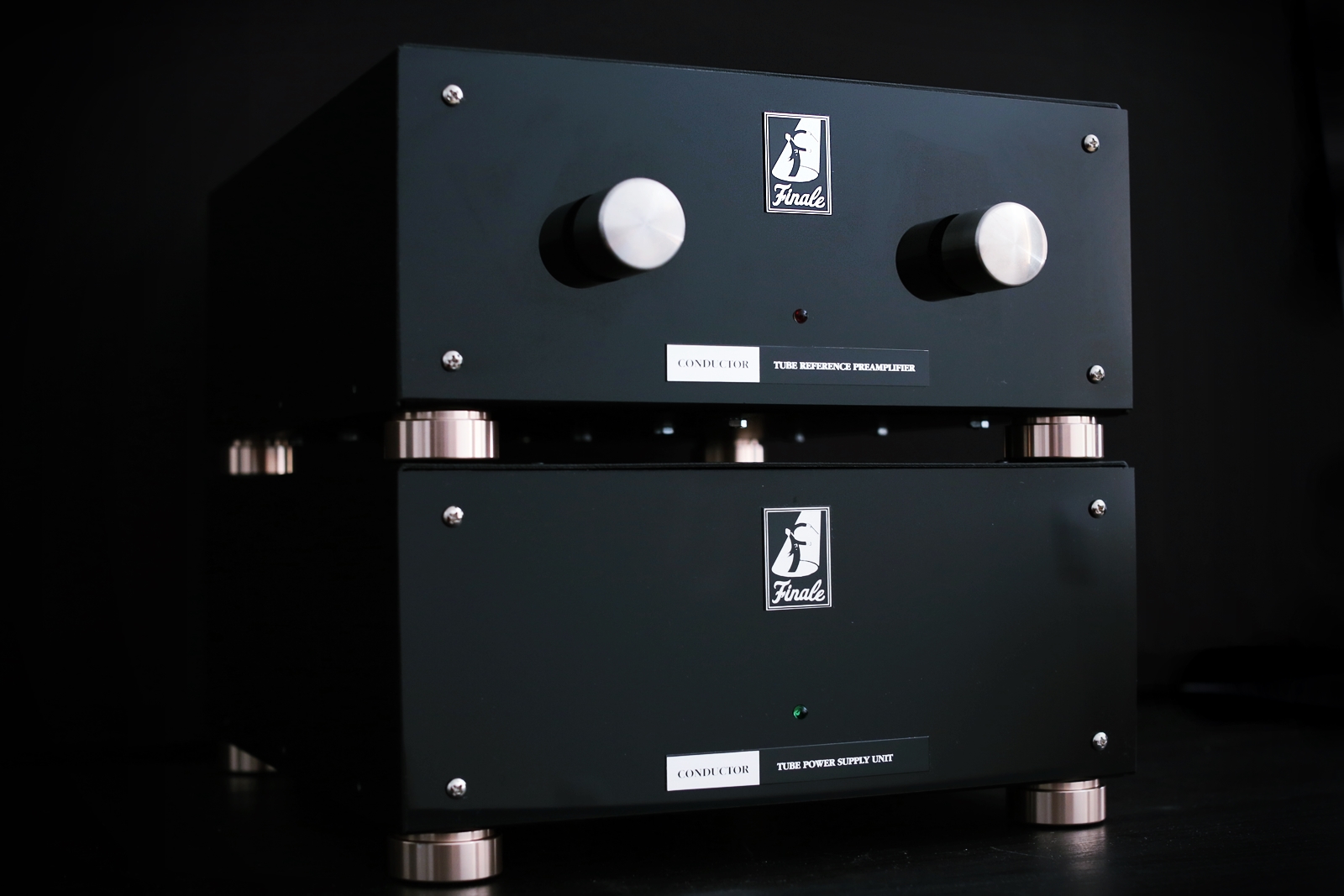 Introduction:
This is our flagship tube reference pre-amplifier, to match with our Grand Finale series power amps, and other high-quality power amps, solid state or tubes and hybrids. It is a no feedback design with a quad of6DJ8 / 6922 tubes, yield a 10X / 26 DB Gain. It is also proudly measured to have a S/N Ratio of 96 db, a weight which reads VERY quiet. With a feedback less design, we are very happy to see the result of 0.1% Distortion @ 1V Output (Very depending on the tubes / the quieter the better because of no feed-back design). For use, there are 3 inputs and 1 outputs. Nothing more to degrade the purest signal transfer.
There are two units to make up a Conductor Pre-amplifier. The "Control Unit" and a "Power Supply Unit".
On the control unit, there are 4 x 6922/6DJ8's (same brand and prefer 80% matched tubes are recommended due to feedback-less design, what goes in and what goes out definitely applies here) + 1 x 12AX7 and a extra choke transformer for the pre-amp's regulator stage. This is the brain of the pre-amplifier, and we use only brand name parts throughout. A muting/protecting circuitry in the front allows the unit warm up 2 minutes at every start before it sends power to your power amplifier. (It starts with a red light and then turns green when it is ready for use). A extra flipper switch is also in place to let the pre-amp in "stand-by mode" (Let's say when you want to change the power amp, in a safe manner, especially high-end solid state power amps, which can be very sensitive).
Special attention is paid on the separated tube powered supply unit :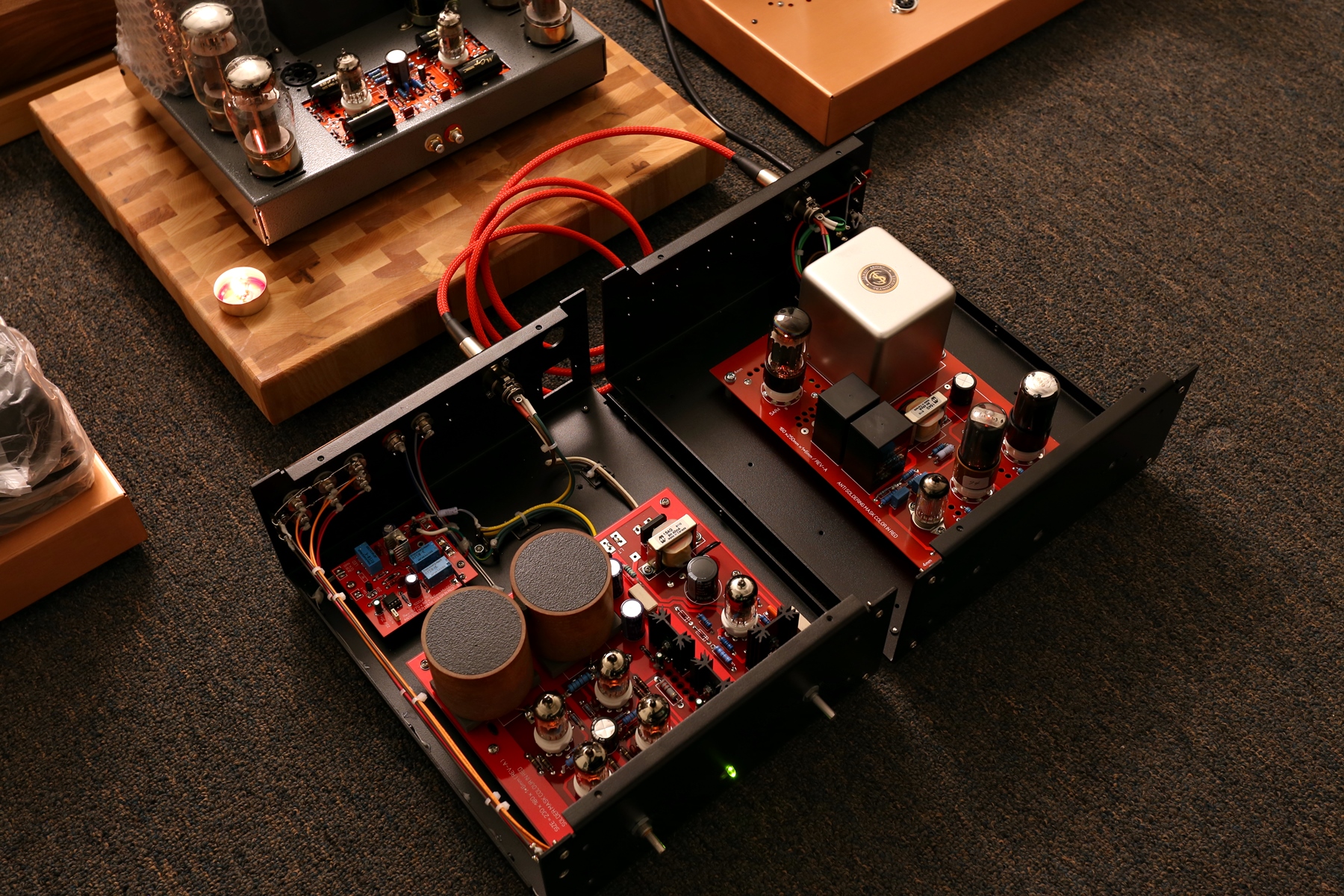 Which is being tube rectified by a 5AR4/GZ34 (5W4 and 5Z4 can also be used)

Choke input filtering (Hammond Canada choke transformer)

Our amp is exclusively powered by high-quality HASHIMOTO and HAMMONDS transformers. This is the reason why our amp provides a dark and quiet background (as well, operations). We do not compromise our quality with low-quality components.

An extra individual regulator stage is added to this external power supply unit for the most pure, stable and extra quiet supply to feed the pre-amp stage (regardless of the day, weather, the fluctuation/quality on your home's electricity supply), that is handled by two 6V6 power beam pentode tubes (does not have to be matched, we like the 6V6 for its musicality and longevity)

The units are then connected together, with a Beldin professional grade power cable with 4 pin Neutrik XLRs connectors / inlets.
NEW FOR 2018 :
Powered by Hashimoto (Sansui) of Tokyo - Custom make to our specifications and made to last forever

Mundorf Supreme Silver in Oil Coupling Caps - As standard , upgraded from basic Supreme previously

DACT Selector- Come standard now, upgraded from Lorlin UK previously

Alps Japan BLUE or TDK Tokyo - Upgraded again, as standard

Triode Lab Stainless Steels Premium Hand Polished Knobs - Comes standard now, and these are the best feel and touch knobs on market

Mundorf Germany's M-Lytic HV Power Supply E-Cap - Which been always our top tier selection for E-Cap

NEW 2018 PSU - Other than a brand new high end power transformer, we also ground up redesigned the power supply unit for higher efficient and even quieter, the EF86 tube is taken out for fewer linkage

NEW Power-cord with 3 pins connection plug with locking feature (on both ends)

NEW Finale / Triode Lab's Copper Tone Chassis for an enriched feel and looks (Top covers remain black)

Options : Second Output (Free), Muting Circuitry (Free), Pilot Light Disconnect (Free), Faceplates Delete (Free), Low-Gain Edition (Half down to 5X), and even our best phono stage might make it as an option very soon, your best bet for a highest quality vinyl MM foundation.
NEW MSRP : $9,500.00 USD / per pair
Looks simple? A high-end pre-amplifier is easily 4 times harder to design/engineer than a comparable power amp, and many times more precise/critical. And this is our best shot to answer other flagship tube pre-amps out there, better than any other pre-amplifier we designed/original equipment manufactured (OEM) for other tube makers around the globe that we been doing for decades! Every part on this pre-amplifier is handpicked, measured and tested to ensure they are matched and balanced for each channel. This is a very important procedure, because this is a feedback-less design, which is heavily designed on every step, part, and tubes. It is a lengthy task, same as the post-production bench test progress, we ensure you are getting this best product per dollar investment.
Early version shown below: