Finalé F-40 II Mono Blocks
Single Ended Version (Parallel SE)
Class A AutoBias
20W + 20W (Conservatively rated)
Hammonds Canada HIFI Transformers SET (Oversized / Construct with high quality M6) / CSA/UL Listed.
Mundorf ZN Caps, CMC Gold RCA and Furutech Gold IEC...etc.
Tubes : 12AX7 - KT88-KT88 (or 6550/KT120), 5U4 / Block
0-4-8 or 0-8-16 Speakers Output
Finish : See "NEWS" Page on official Triode Lab / Finale Official Colours, or 6,500 Other Colours : $350 / Car Paints $500 (Lead time required)
MSRP $6,999 USD / PAIR
Testimony : An email from our new Swiss customer, and we know it will sound even better after it's broken in!
" Hi Frank,
Bass are wow, mids and high are so sweet. Tonal balance, timber are wonderful. Your amplifiers are revealing, transparent and so respectful of the music. Dynamic? Wordless... A real delicacy, I'm more than happy, thank you for your brilliant work! I do not regret any cents...
If any Swiss customer ask for a demo, send them to me...they will die for :-) "
Specifications :
Data for reference only, numbers varies subject to conditions. Following numbers are measured / tested with KT88 and 5U4 on 120V service.
Nominal power output distortion are 0.3%THD+N
Max power output are 20w@5% THD+N
S/N ratio are better than 86db@ A-weight
Input sensitivity - 1V
When 5AR4/GZ34 is in used instead of 5U4, the Max-O/P are 25W @5%THD+N. and no distortion O/P are 20W
5V4 can also be used with less power output. GZ37 and 5AU4 are not suitable. Warranty void if used.
Finalé F-120 II Mono-blocks Amplifier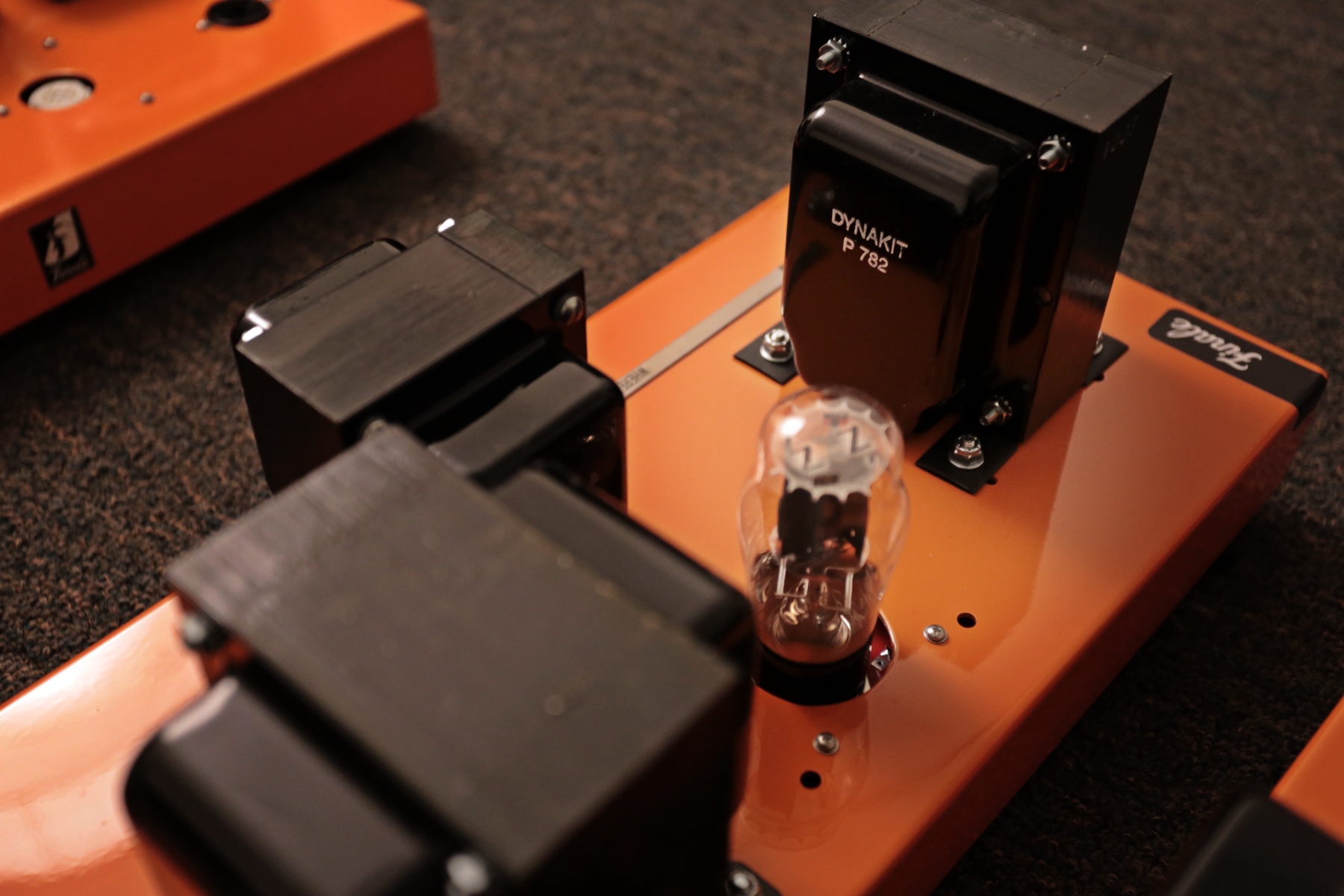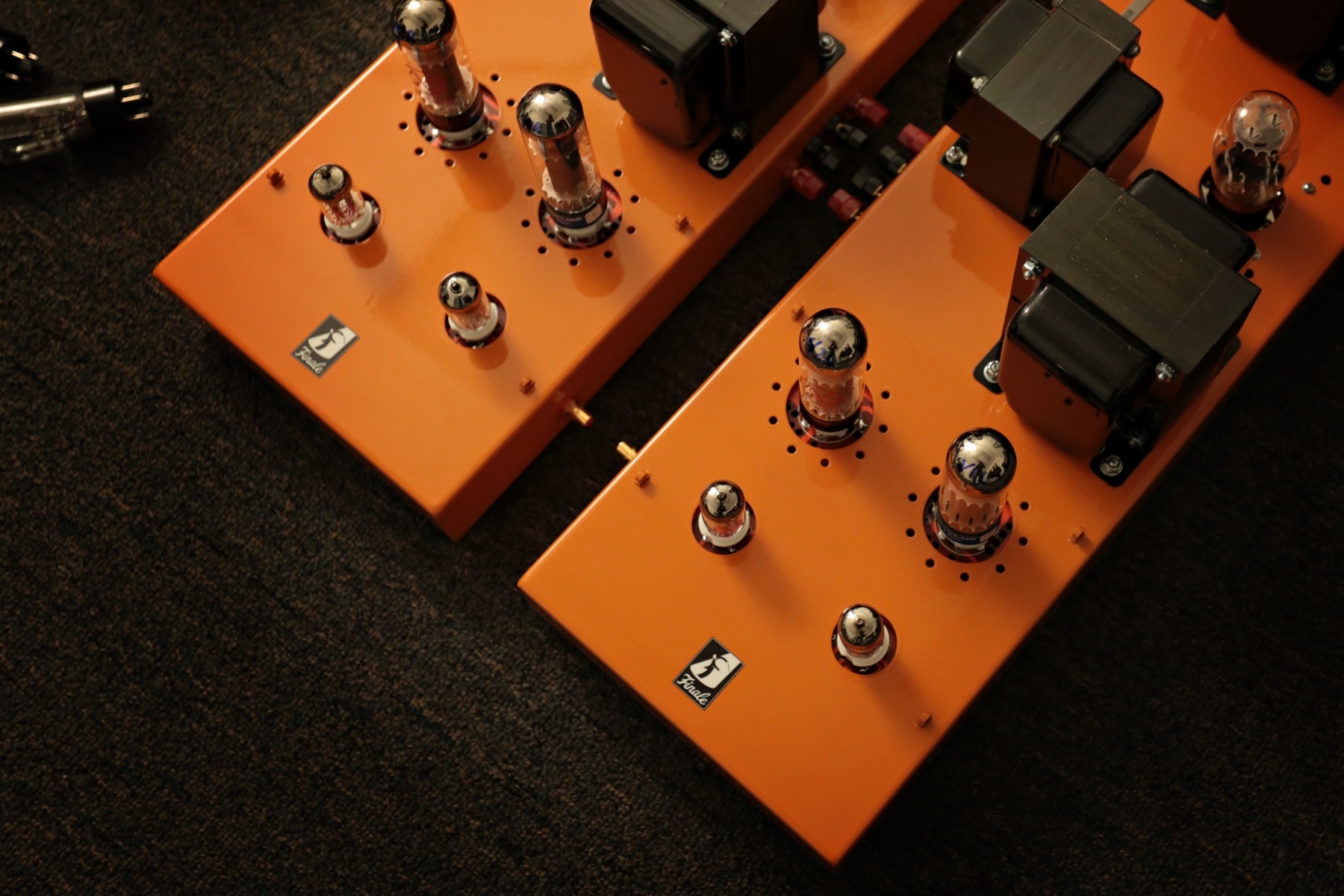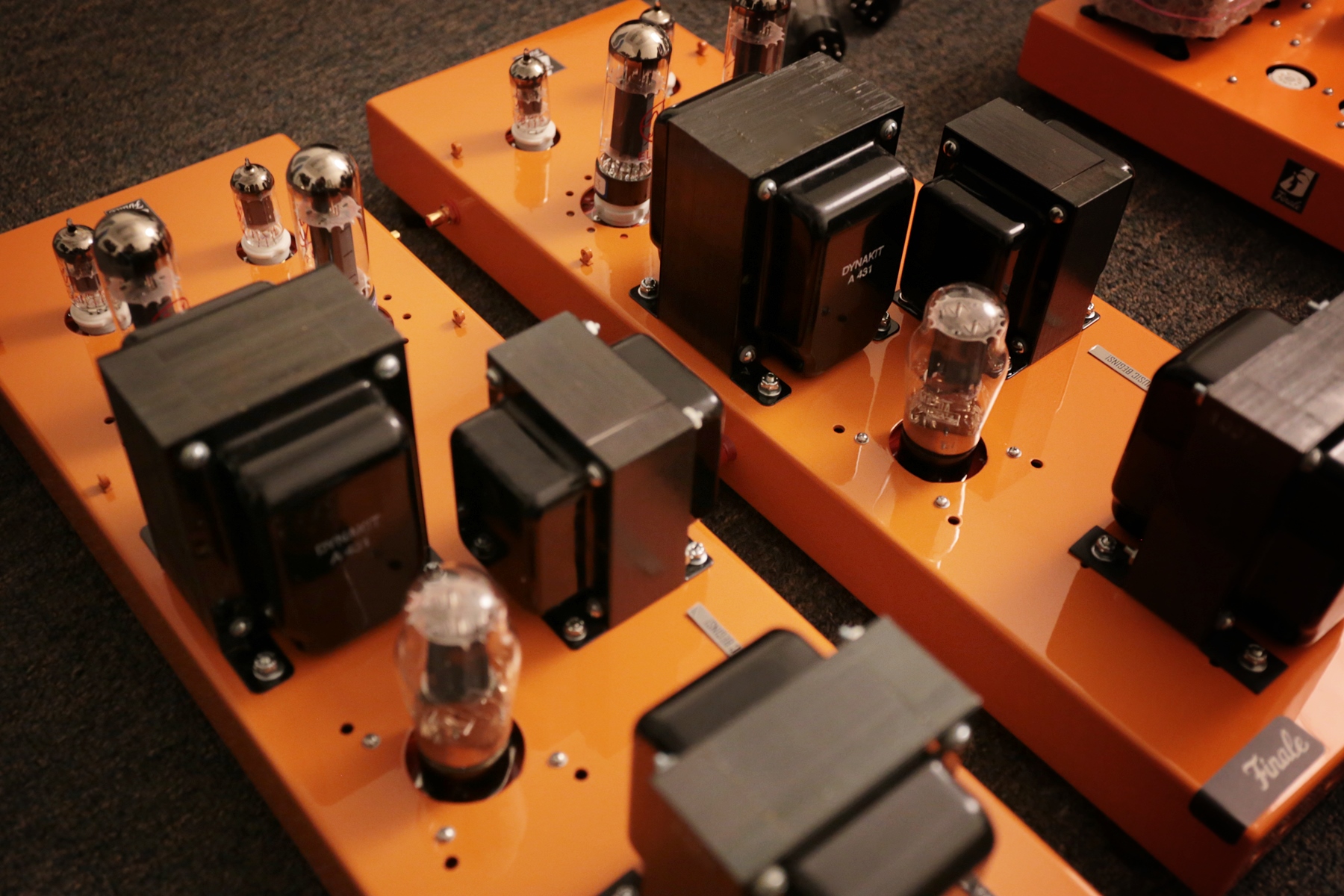 KT88/ 6550 / KT90 / KT100 / KT120 / KT150 (Pair / Block) - Direct Plug & Play*
60 Watts (Total Harmonic Distortion: Less than 1% at Rated Output) 65W @ 2% , 68W Max Output
Push Pull Class AB1 Pentode Fixed Bias
Hum & Noise (A-Weight): BETTER THAN 100 DB! (Read very quiet)
12AX7 X 1 (Per Block) - One of the best preamp tube choice
12BH7 or ECC99 x 1 (Per Block) - Lots of sound tuning choices and availability
5AR4 Rectify Tube (Per Block) - All tubes matched preferred
Our best shot design around with the KT88 / 6550 type tubes in Push Pull configuration. Special attention is paid to the power supply and regulate circuitry, which is added to ensure quiet operation and measurements, a high-quality choke (made in Canada) and dual power supply e-caps are also in place for beating our competitors on the market. And thanks to the high quality and cool running proprietary Canadian power transformer, it will allow the amps to run hours without sweat, but great music. Our output transformers selected is also the best on the market, and are made better than what we expected, from the top to the bottom of the spectrum - it sounds fantastic as well measured grand. To those who wants even higher power, we could choose an even bigger-sized output transformer to get over 80W per channel. Like our other amps, the F120II is made with pride and engineered to last forever. The is the reliable. high end, and exceptional sounding KT88 amp you've been looking for!
Proudly design and engineered in Canada!
Parts Highlights:
Mundorf Coupling Caps
CMC USA Gold
CMC USA Binding Post
Furutech Gold IEC
JJ Tesla E-Caps (x 2 / block)
Hammonds Canada 300 Series Power Transformers (Universal voltages)
Hammonds Canada 60W Grade Output Transformers (Upgrade to 100W Grade available)
Triode Lab Canada High End Choke Transformer, hand made in Canada with highest quality M6 metals
Lots of upgrades and options!
Finish : See "NEWS" Page on official Triode Lab / Finale Official Colours, or 6,500 Other Colours : $350 / Car Paints $500 (Lead time required)
*(No tuning required, but simply bias is recommended for every tube change, a simple 3-step bias instruction manual will be provided. Will teach bias the setting closer to Class A, or Class A/B for a more durable tube life)
MSRP $8,995+ USD
Signature versions adds: $2,000
Bigger Output Transformers - 100W Rated
Remap circuitry for extra power / Re-tune for optimal curve with bigger output transformers ( 70W and 80W Max)
Autobias version is available (30W)
Input caps upgraded to Mundorf EVO Oil Caps
Coupling caps to Mundorf Silver Oil Caps
E-caps to Mundorf M-Lytic HV
RCA to DH Labs / Furutech RCA
Binding Posts to Cardas or CMC Binding Posts 0-4-8 or 0-8-16
Copper Edition $12,999 USD / Pair