Finalé F-300B Walnut Edition
2014 Debut
The Highlights:
SE-X Driver Design, by maximizing and unleashing the very best potential of a single powerful 12AX7 tube to command and control the output tubes in the most effective manner (in single ended / SRPP mode), the key lies in the preciseness, accuracy and efficiency to achieve this simple-best approach design (it can't be done on other tubes because they don't have as high gain ability). We very much appreciate the sound result from this, than using a 2-stage design that is needed on most other pre-amp tubes such as 6H30 / 6922 / 5687 and so on. It will have more phase shift, more roll offs, less natural, more distortions, and you name it.

Class A 8W (Max) / Block The amps are tuned for refinement over raw power, it's more useful and solid than you think.

Autobias Safe / Reliable / No Troubles / Durable tube lifes

DC Filament Supply / Direct coupling for quiet, stable and most linear playback

Finale Audio Pink-Lingu RCA (Rose-Gold Plated)

Mundorf Audiophiler ZN Coupling Caps

FURUTECH Japan Gold AC Inlets

5-way Binding Posts 0-8 Ohms / Optional 0-4-8 or 0-8-16 (Ask about upgrades to CMC or Cardas)

Finish : ORANGE
The Technicals:
The most popular direct heated triode tubes of all time!
It's not easy to master the beauty it of it - circuitry wise, although it seem easy to construct, but it is hard to master.

It IS expensive to unleash its potential, on the hardware side. And that is why most 300B amps on the market either fail in this regard or or measured far from the best, because they had to work within a specific budget. Unfortunately, there is no way around quality with budget, at least with tube amps. So, high quality tube amps, especially triode tube amps, are supposed to be expensive.

The first thing in getting it right is the output transformers, without a good quality and properly-made pair by a HiFi transformers manufacturer, the 300B will not sing and unleash its potential. You can get away with other tubes, but not 300B.

Here, a high-quality pair of Canadian made to our specifications are used (P-10), it is specifically designed for triode tubes such as 2A3/300B and 45. It is often designed for high fidelity, single-ended, Class-A, with frequency response at least 20 hz to 20 khz.

We don't just focus on the outputs, even the choke transformer we pick are of high quality (made by Hammonds Canada) and important to both the sound and circuitry. Each of them is HIPOT tested (100%) at 1,500 VAC, and each of them is vacuum-impregnated with polyurethane varnish to yield for quietness and long life operations.

For the power transformer, it's even more serious - again, made in Canada with conservative designs (that is reliable and able to provide seamless power deliveries) - CSA certified and made with high quality specs such as passing HIPOT test of 2,000V RMS, and made with Class A insulation (105 degree C) and so on.

All these transformers are not just used because they are good, it also has to do with reliability and safety that we care very much about.



Walnut Edition : Due to the popular demand of using the Canadian walnut wood frame chassis, this item is available to those who likes the idea. The output transformer will also be upgraded to the Hammonds 30W sized Output Transformer (12 lbs each alone!) , Mundorf ZN Coupling Caps will be used to match the characteristic/measurements of the output transformers,
MSRP :$3,500 USD / Pair.
Signature Package $750 USD : Hashimoto Output Transformers (Remapped the circuitry to maximal the use with the uber Hashimoto, because every make and model of different transformers has different curves, insert loss, phase shift, and so on. Expect even better output power, distortion figures, inductance/weight, and perfecting curves!) / Mundorf Silver in Oil Caps / Cardas or CMC Binding Posts/ Furutech Japan Gold IEC AC Inlets ... etc.

SPEC
Rated Output: 8 W + 8 W (Max)

Operation: Class A Single Ended Triode Auto bias

Speaker Outputs: 8 ohm / 16 ohm Standard

Total Harmonic Distortion: Less than 1% at 7W ( Triode Lab's P-10 OPT) or 6-8W for Hashimoto, depending which models of OPT being used

Hum & Noise (A-Weight): 88 db or better at rated output

Frequency Response: 20-20,000Hz+/- 1db at 1 Watt

Input Sensitivity and Impedance: Main Input - 1V / 220k ohm +/- 10%

Footprint: 13" W x 10" D x 8" H+ (Walnut Edition)

Shipping weight : 20+ lbs / Block

Preamp Tubes: 12AX7 Pair

Power Tubes: 300-B Matched Pair

Rectifier Tube: 5U4 or 5V4
F-300B MONZA Mono-Blocks
16W-18W Class A Output Power The same good sound signature of above but double the power, Autobias as well.

The Monza will be construct with big Hammonds transformers, specific for Parellel 300Bs.

The RSR Drivers , the Monza will source using our 300B Flagships RSR amp's driver directly.

DC Filament Supply , also Direct Coupling for quiet, stable and most linear playback. Each 300B tube will be feed by its own individual filament transformers , power supply and own circuit board for the best seperation , performance and channeling ability. Making 5 transformers per block!

Petite Sized - We will be borrowing the Triode Lab EL84II FFX Chassis , to making the most compact and fit 300B Parallel SET Mono Blocks on the market! Only measured 8"x17".

MSRP: $10,999 USD Pair
F-300B MONZA RS-R Mono-Blocks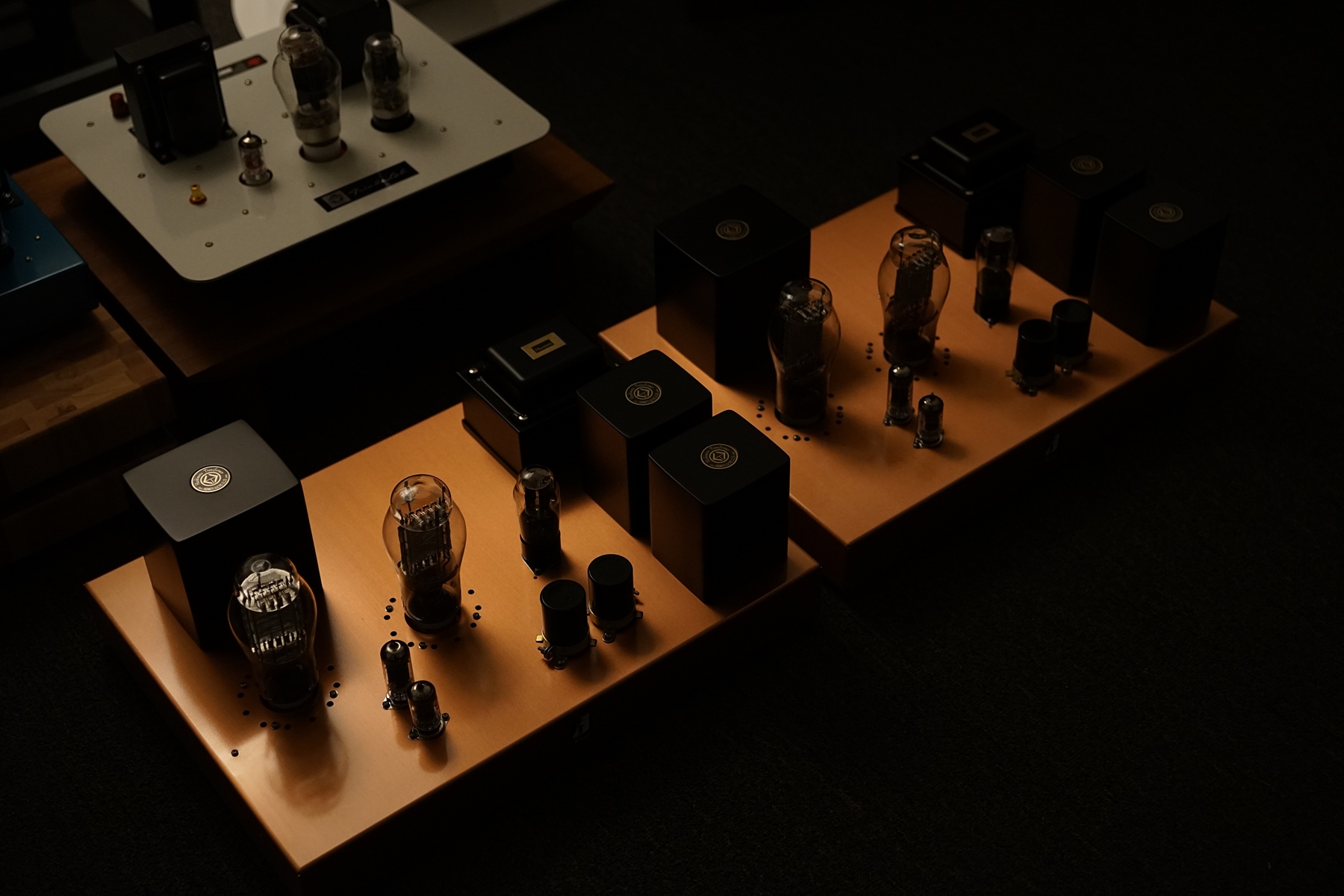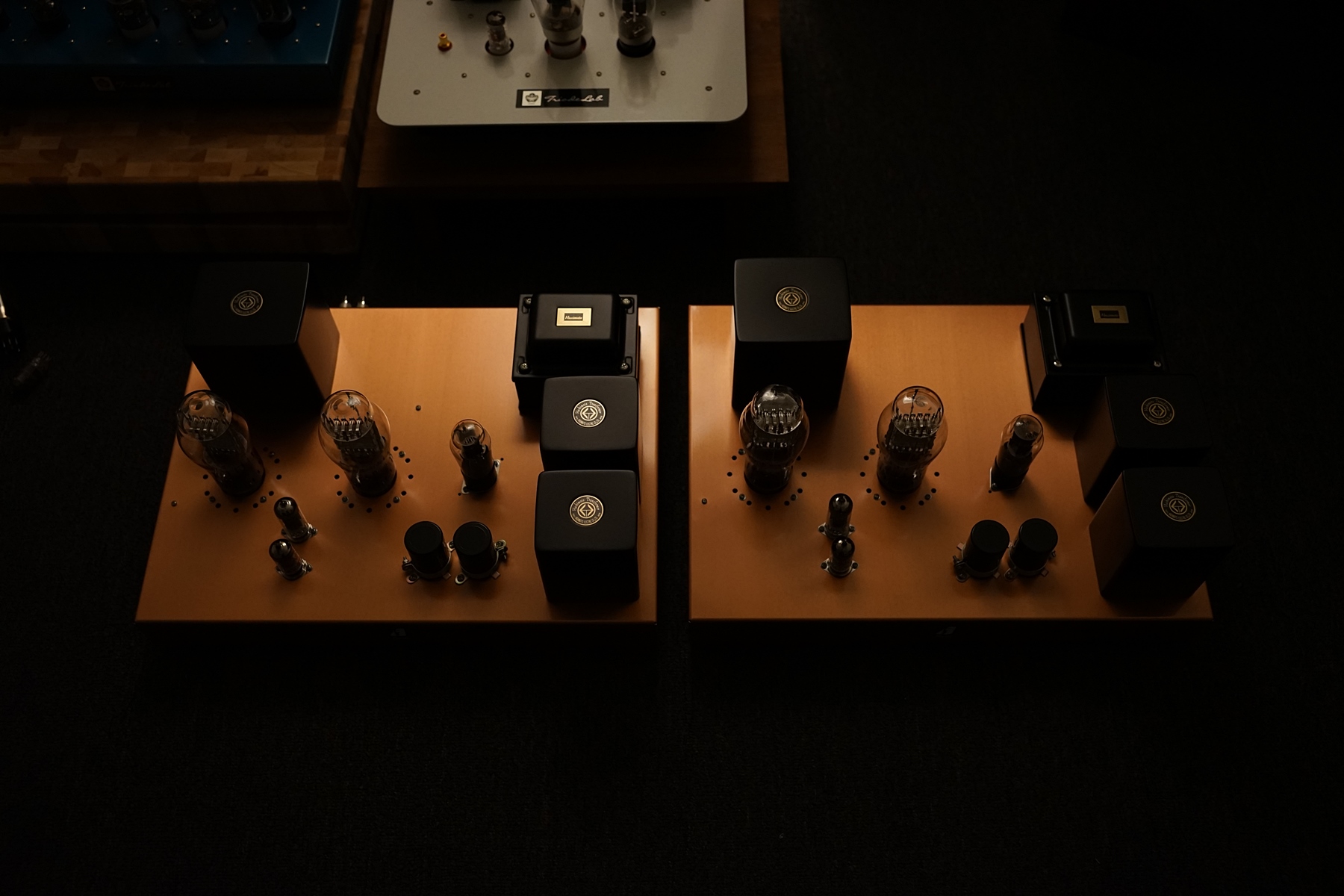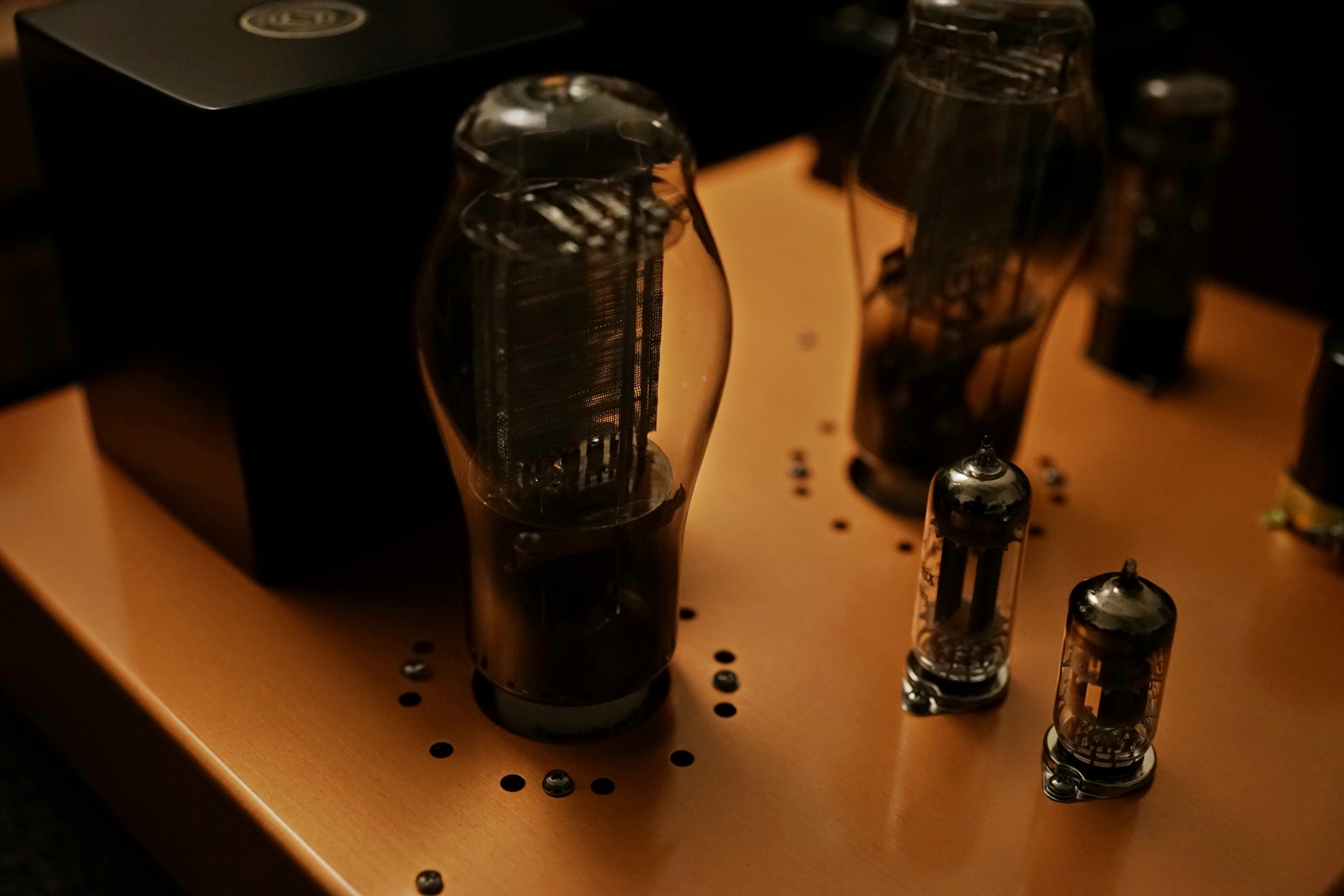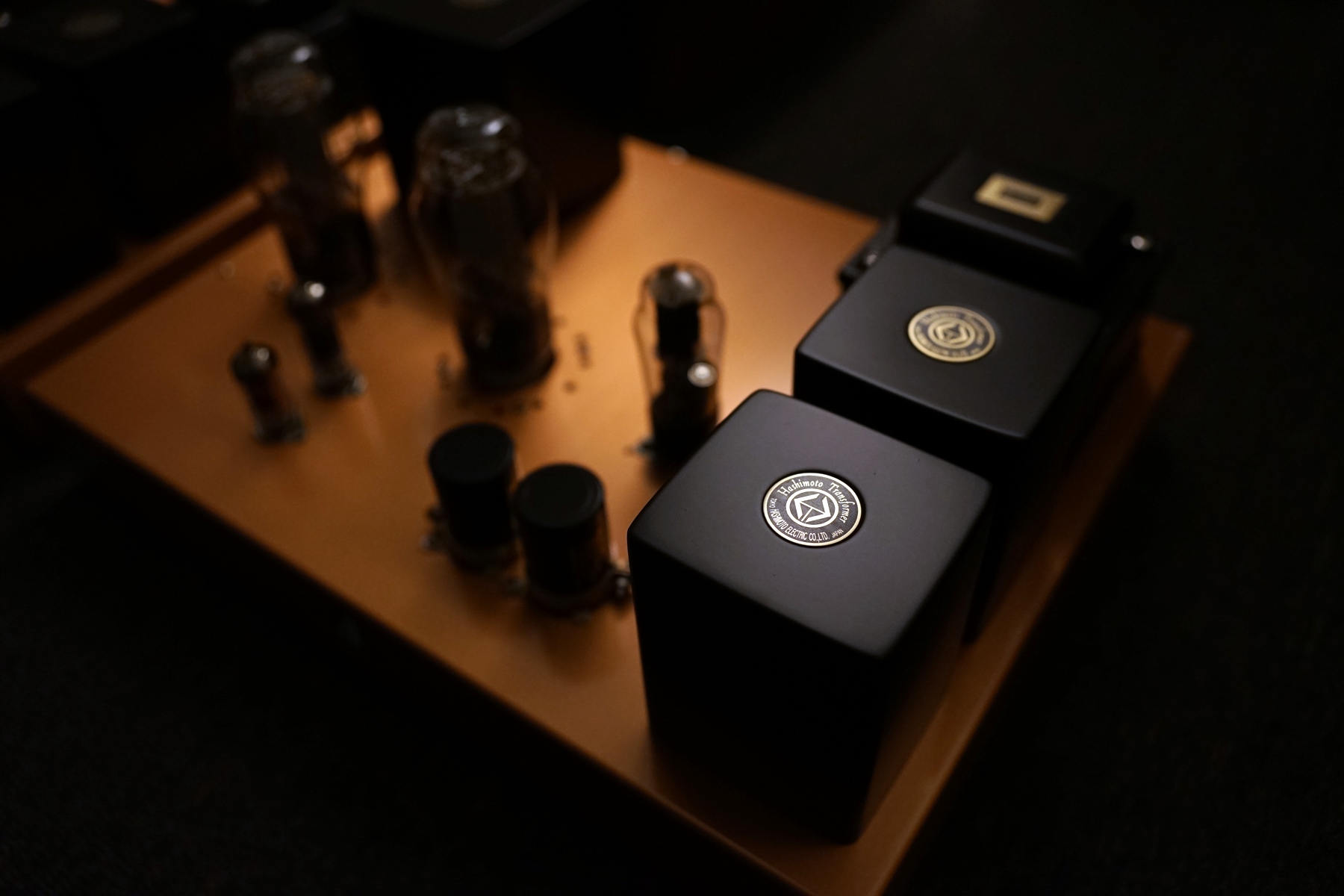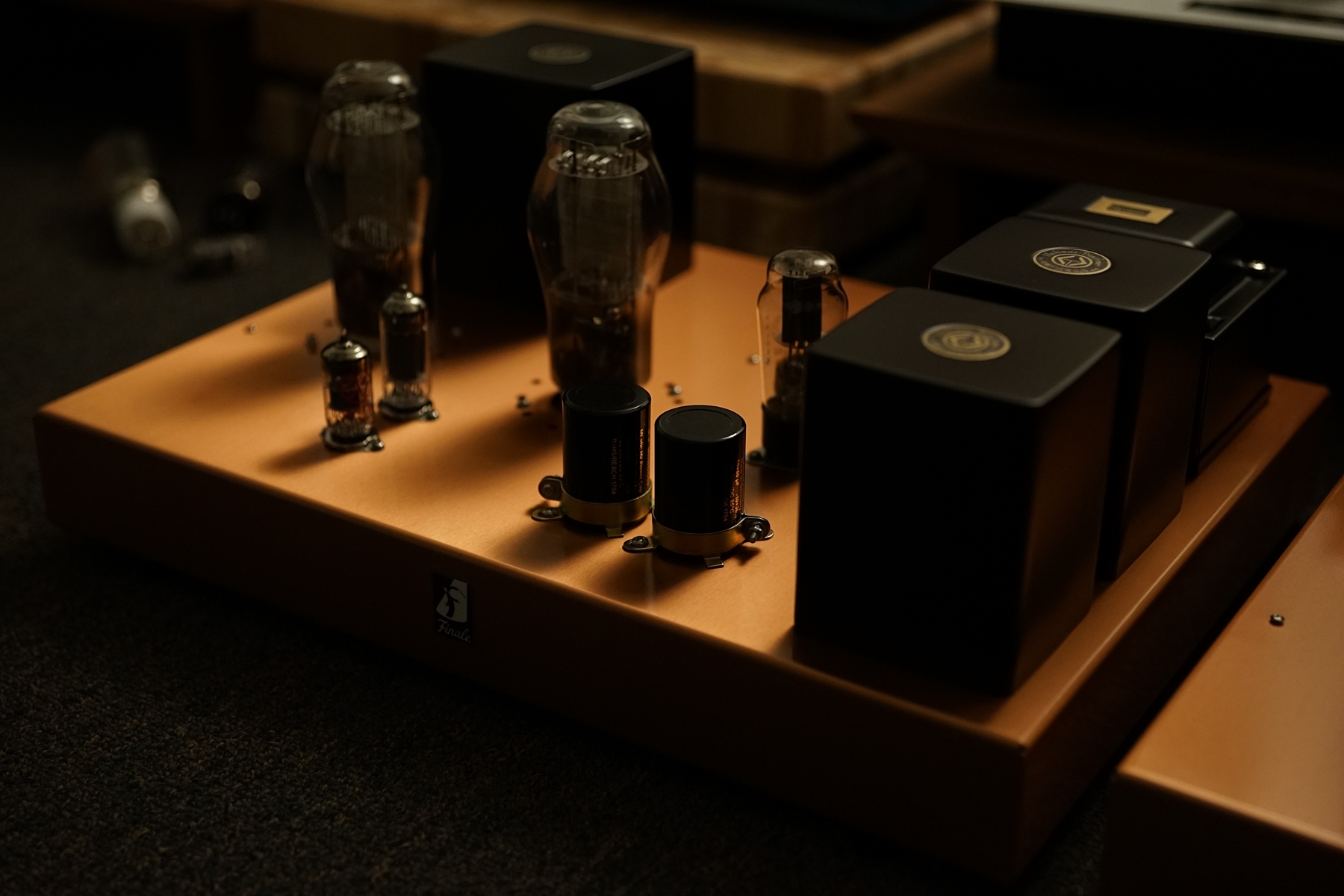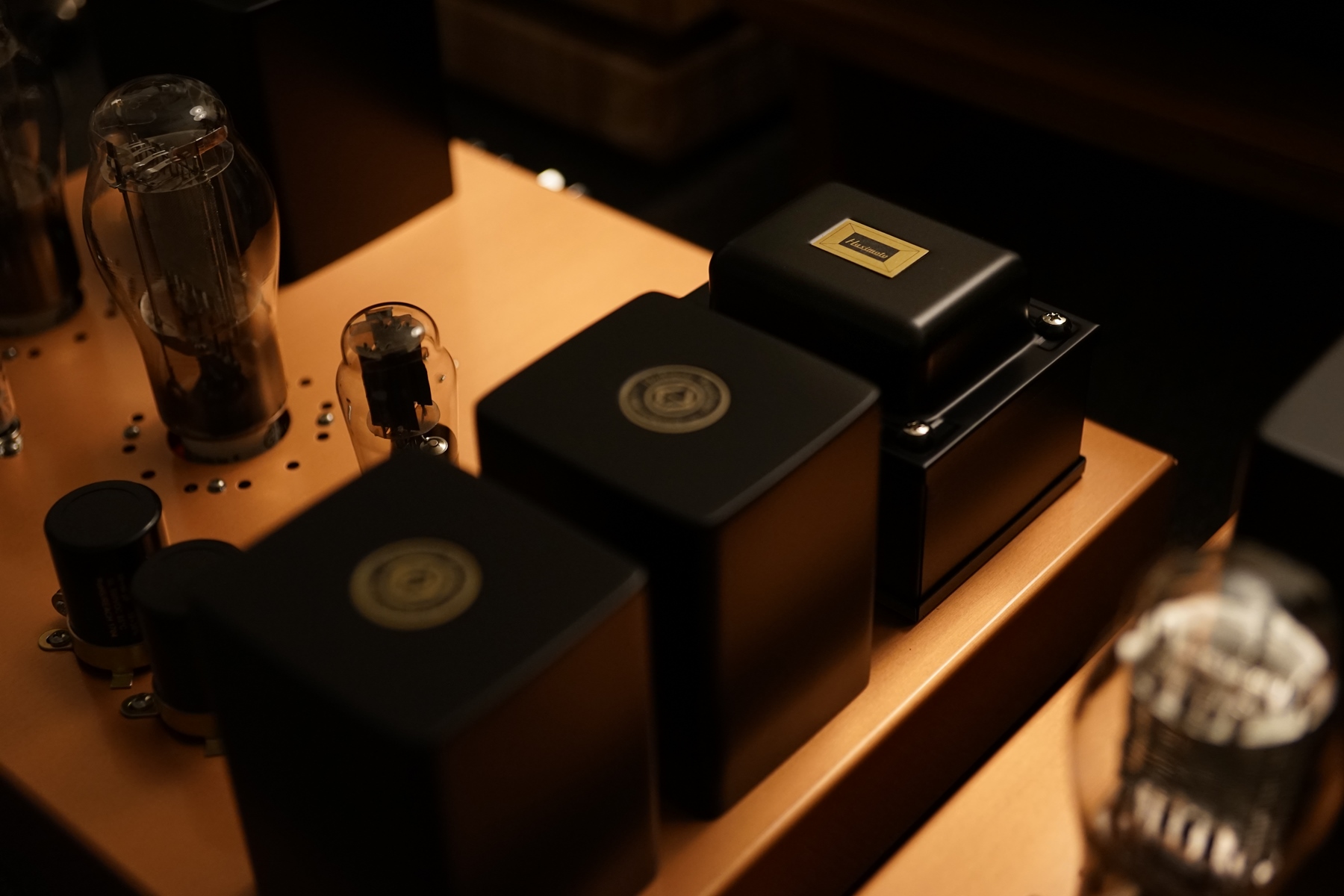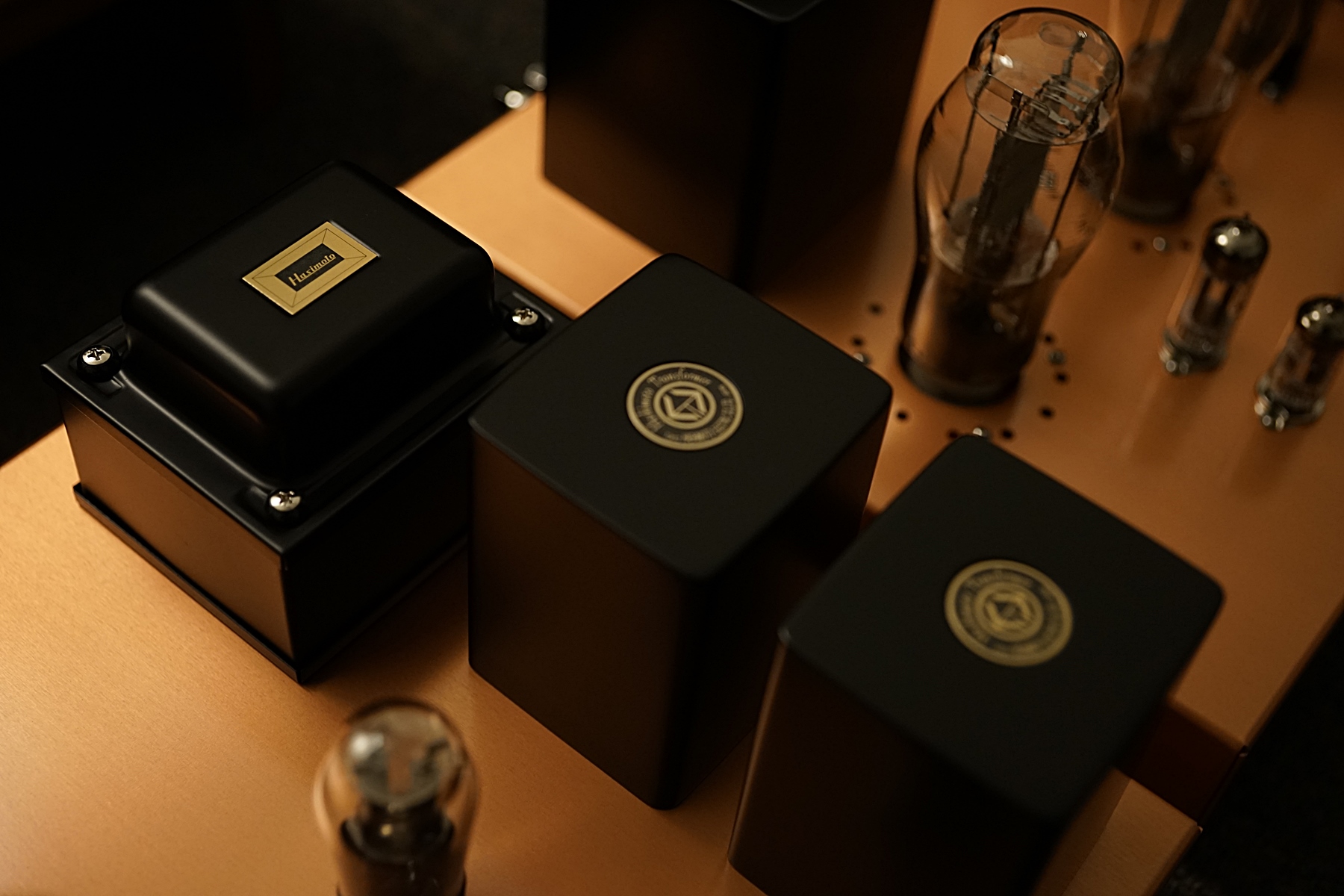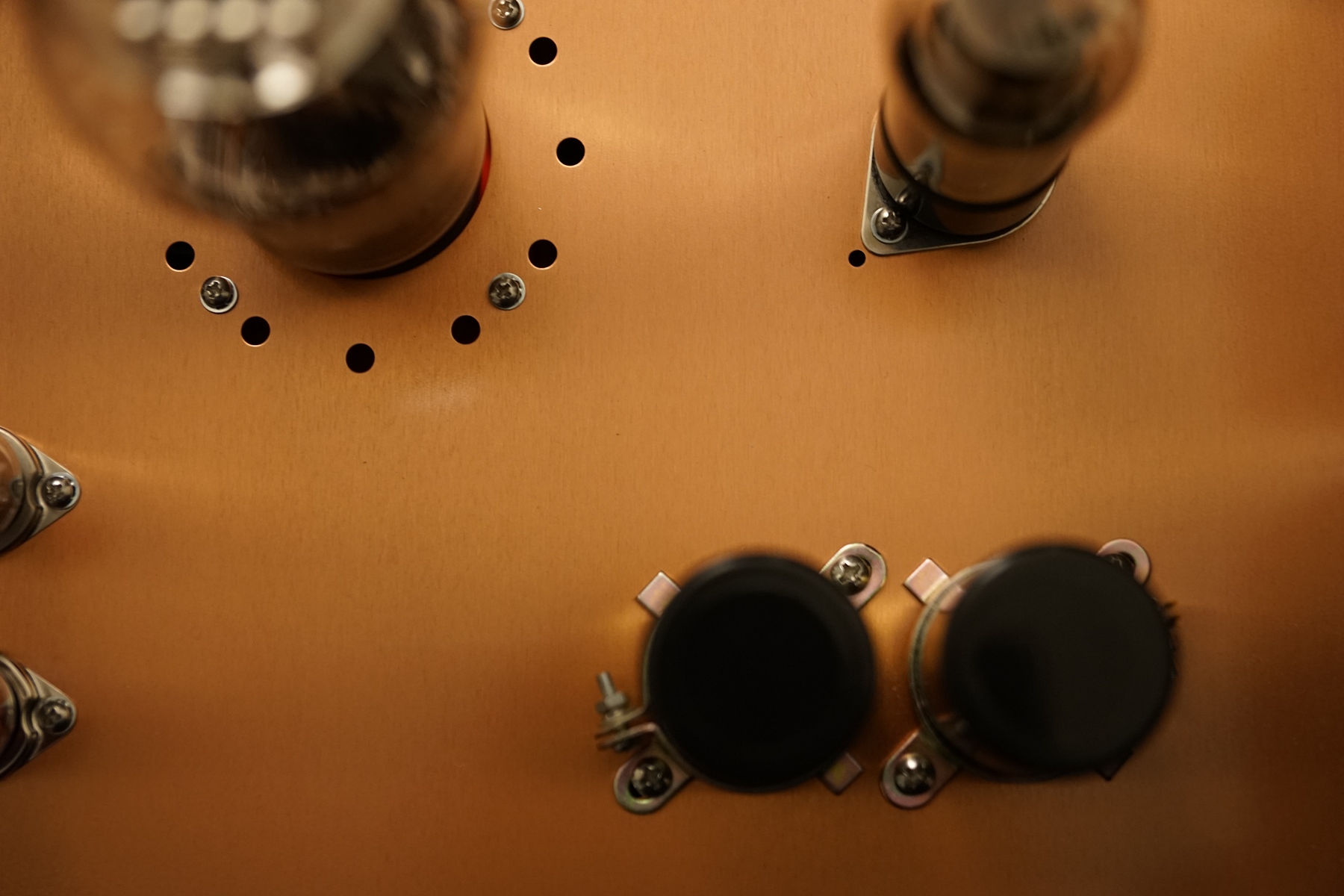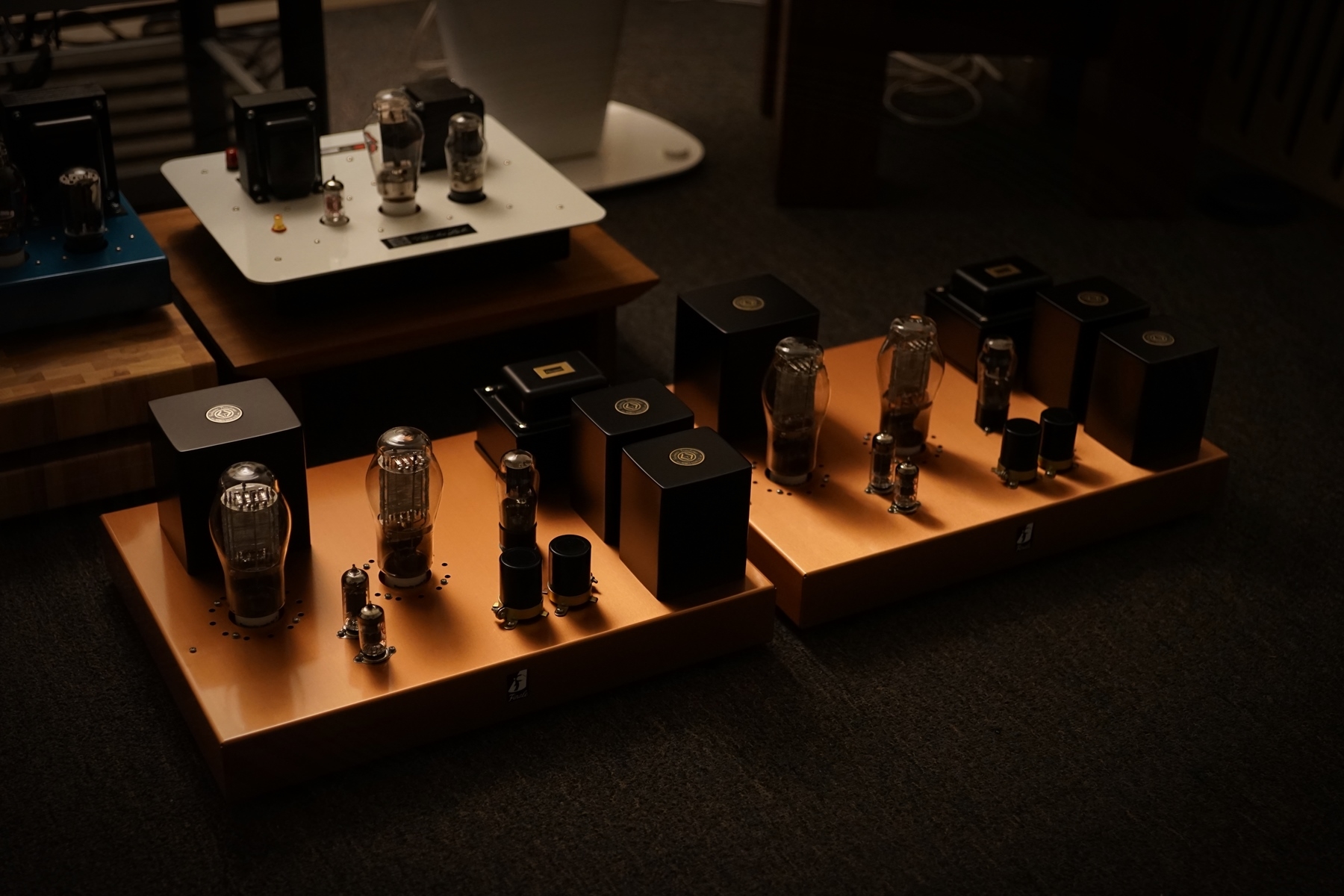 Hashimoto x Triode Lab 30W Flagship 300B Output Transformers (Design by Triode Lab / Engineered by Hashimoto)

Hashimoto Choke Transformers x 2 / block (Large type)

Hashimoto 300B Power Transformer (Custom design by Triode Lab / Engineered by Hashimoto)

Power Output / Mode : Class A 16W Auto-bias

Preamp / Cathode follower & impedance matching : 12AX7 Pair + 12BH7 or ECC99 Pair

Output Tubes : 300B Quad

Rectifier Tube : 5U4 / 274B or GZ32 / 5V4 Pair

DH Labs USA RCA

Cardas Rhodium Binding Posts 0-4-8-16

Furutech Gold IEC

Mundorf Silver in Oil Coupling Caps

Mundorf M Lytic HV Power Supply E Caps x 2 / Block

QQQ Japan Rectifier Tube Socket and Driver Tube Sockets (Optional 300B CMC tube socket)

The Monza RS-R is only constructed on pure copper chassis (Optional with high quality aluminum in any Triode Lab / Finale colours)
MSRP : $28,000 USD (With James or Hashimoto) / $20,000 CAD with Canadian Transformers
Description : While the standard Monza is already the best quality in the world, here, we bring the 300B Parallel design to further push the "cost-is-no-object" territory. And we are happy to announce its design a success. The 300B flagship output transformers also tested better than anything we have used/measured - hats off to Hashimoto Transformers (aka Sansui of Tokyo). We had quite an interesting and different opinion when came to the design table on these specific output transformers. At last, we mutually agree upon on one set of engineering parameters that makes this the best or nothing.
The engineering of the Monza RSR mono blocks is totally different; almost everything is doubling up or separated half for better channeling / supply / and delivery. There are also two pre-amp tubes on each channel versus one (12AX7) on the standard Monza, two external main power supply E-Caps on the the RSR , dual up use of two choke transformers to quiet up further, same as the high-end noiseless reference grade power transformer that is made to last forever (like many Sansui products from over 50 years ago) , not to mention, all the passive capacitors and parts are more, bigger or better.
The front end design is one of our best, and powerful enough we might use the same design to drive bigger tubes such as 845 / 211. Like the Monza, we use one 12AX7 for the most direct sound reproduction with fewest sound change / phase shift, we adapted one more 12BH7 or ECC99 to act as cathode follower and input impedance matching. The front end uses highest grade 1% brand name resistors, and each 300B's power supply and DC heating stage is separately constructed, they are considered to be quite "beefed up" compared to the standard Monza. We take the power supply design very seriously with no hold barred fashion on the RS-R, and its technical design level to our top level. The enhanced and true high-end quality tube power transformer is designed by ourselves dedicated to our amp design (and custom made by Hashimoto Co of Tokyo in best audio grade standard) to handle the extra power on this design, special attention is paid to operating temperature and quietness to the refinement level we wanted, along with the tube's durability. There are also the dual individualized stages premium power supply electrolytic capacitors setup (e-cap here and after) for separated superior power delivery to the tubes (1st e-cap) and amplifier gain stages (2nd e-caps) separately— featuring high-end Mundorf "M-Lytic" capacitors. Then the dual Hashimoto high-end potted choke transformers are being setup for superior AC filtering for each/different sections, separately, which almost like double the power of filtering. One of the choke is in place to feed the tubes and its dedicated power supply. The second Hashimoto choke transformer is served to feed the dual e-caps, feeding the rest of the power supply stages.
While with the set same of transformers setup, we can make the amplifier to pump out 18 or more watts. We decided to keep it lower at 16W with lower distortion and more refined sound reproduction with longer life expectancy on the 300Bs.
Pre-2017 Edition : Made with flagship James Transformers co-engineer with Triode Lab
F-300B FRIGATA Mono-Blocks (10 Pairs Limited Edition)
6 x 300B / Frigate

Class A 50W / Channel (Auto-bias)

12AX7 + 6H30 / Point to Point Complete Hand-wired Driver Stage on Copper (Clear-coated) Platform

100W Extended Output Transformer (HUGE)

Copper Chassis with pure COPPER heavy duty chassis construction for best sonic reproduction

Ship's Body, will be using wood to framed the copper chassis (Measure approm 12-15" wide and 50" long)

Ship-weight : Heavy! Will be housed in triple-foams / triple strength card tonebox on skid/pallet

$38,000 USD
Our money-no-object takes on the 300B tube!