Welcome to our page! : About PENTODE-6
The concept for Pentode 6 evolved out of conversations with owners of ultra high-efficiency speakers and other DIY audiophiles - who were looking for some true Class A low-wattage tube amplifiers that sounded great, at a reasonable cost.
They told us they wanted top circuitry, proper HiFi transformers with linear frequency-response curves, a "seamless" sound, AND units that used tubes readily available today.
From these demanding requirements - the Pentode-6 line was born. Our response to the challenge is to offer no-frills amplifiers, sold through a direct-sale business model. The equipment in this line is designed for the audiophiles and DIY enthusiasts who know exactly what they want.
By not offering tubes, cables, warranty, pro-packaging, and manuals with the amplifiers, we reduce the costs to you. What we DO offer is truly addictive sound - music that makes time stand still... a sound comparable to the famous 2A3/300B/45 triode tube amps at a fraction of cost ... all autobias.... and yes, these amps will be built for Pentode tubes, or tubes named with a "6" - made in "the six" - Toronto, Canada! Like Finale Audio / Triode Lab, the Pentode 6 amps are all designed and handmade in house by us, in the "the best or nothing" fashion. Pentode 6 will be our new wing after Triode Lab and Finale Audio, all under our mother company and management by Tube de Force Ltd.
Starting June 2016,!
PS - Don't be surprised if you see high end speakers in the future …
Please notice, all MSRP are in$ CAD funds - we try to use as much as Canadian sourced parts as possible.
Pentode or 6 related series(serious) of high end tube amps, assembled:
Story: We have been in touch with some ultra high eff speakers owners, and they are looking for some true Class A low-wattage tube amplifiers that sound great with their dedicated transducers (made with a top circuitry along with proper HiFi transformers), that fit the bill PLUS good choice in tubes selection, AND something measure linear and sound very seamless. That's a lot to archive, so we can only sell these models of amps as assembled "KITS", when we have more time and resource (especially labour), DIY UN-assembled kits could be considered as well. Whats more important in our opinion, these bunch of folks are wanting some truly addictive sound, music that stops time. Hence, the Pentode-6 line of amps was born. These will be highly comparable to the famous 45/2A3/300B triode tube amps at a fraction of the cost, and these tube amps will be either related to Pentode, or tubes named with a "6", all will be Autobias, starting June of 2016!
1. F-6L6S
Stereo 6L6GC / 5881 Single Ended Class A Pentode 5W-8W, depends the brand of transformers
The F-6L6S (Stereo) Power Amp, is built on the vintage looking hammertone chassis used by the Triode Lab 2A3 Classic. What does it have in common aside from looking similar? Starting with the driver stage, the 6SN7 is too sensitive/too powerful, and too much to the for the 6L6/5881 tubes. The 6SL7 is more quiet/suitable to the 6SN7 in this application at least, A hardwired rectifier tube section is also applied, using a heat-sink for better cooling and stability. There is over 500V dumped right at that section and we don't want any cross-talk or any interference, most other manufacturers would not care, even making higher-power amps and leaving signal inputs to tackle with high-tension areas to pick up little noise here and there. Furthermore, a powerful 5AR4/GZ34 is chosen to handle the power supply for the design. This is an alternative to the expensive 300B tube amplifiers with the same colourful presentation and similar power. This is a pure Autobias Class A amplifier that loves to roll all kinds of NOS tubes!
(Tubes using : 6SL7 Pair - 6L6GC/5881 Pair - 5AR4/GZ34)
$1,499 CAD + Options
Basic : Hammond Canada's Choke / Power Transformer / Brand name output transformers / Mundorf Coupling Caps and Mundorf Power Supply E-Cap / High quality brand name resistors and Ecaps. 4 / 8 Oms Output, 16 ohms optional.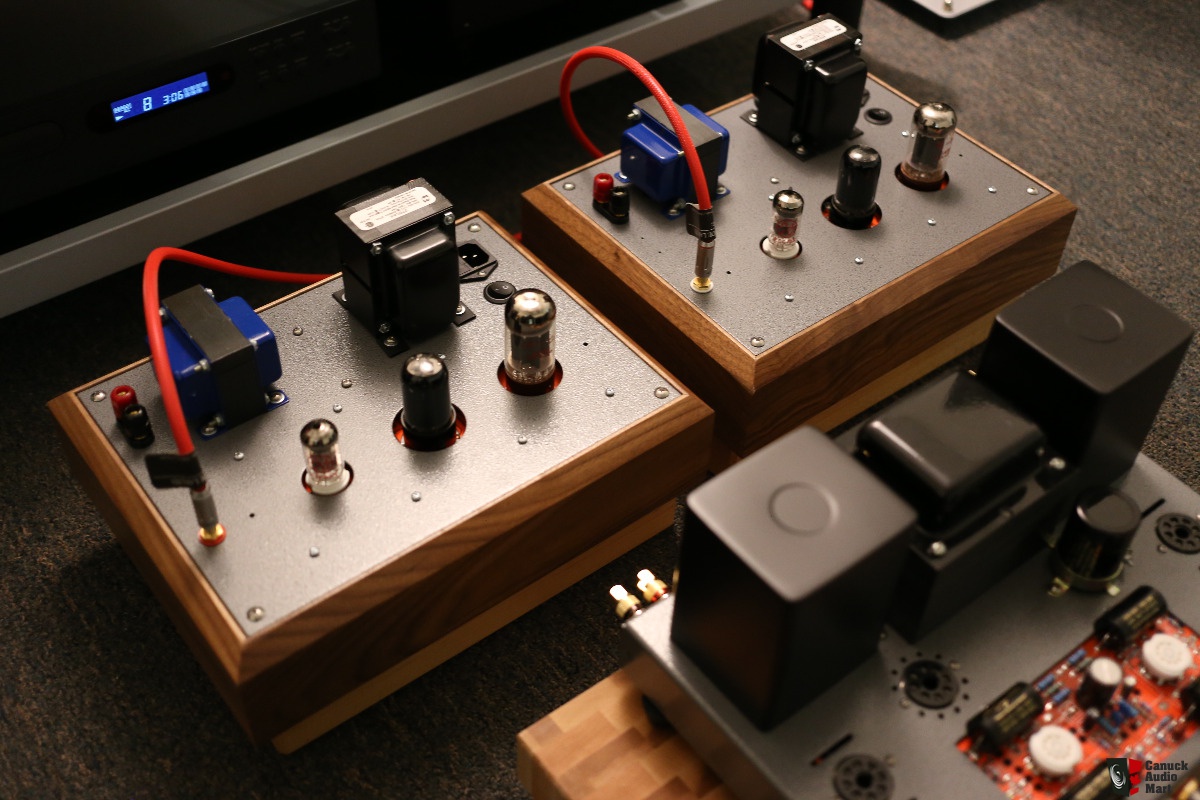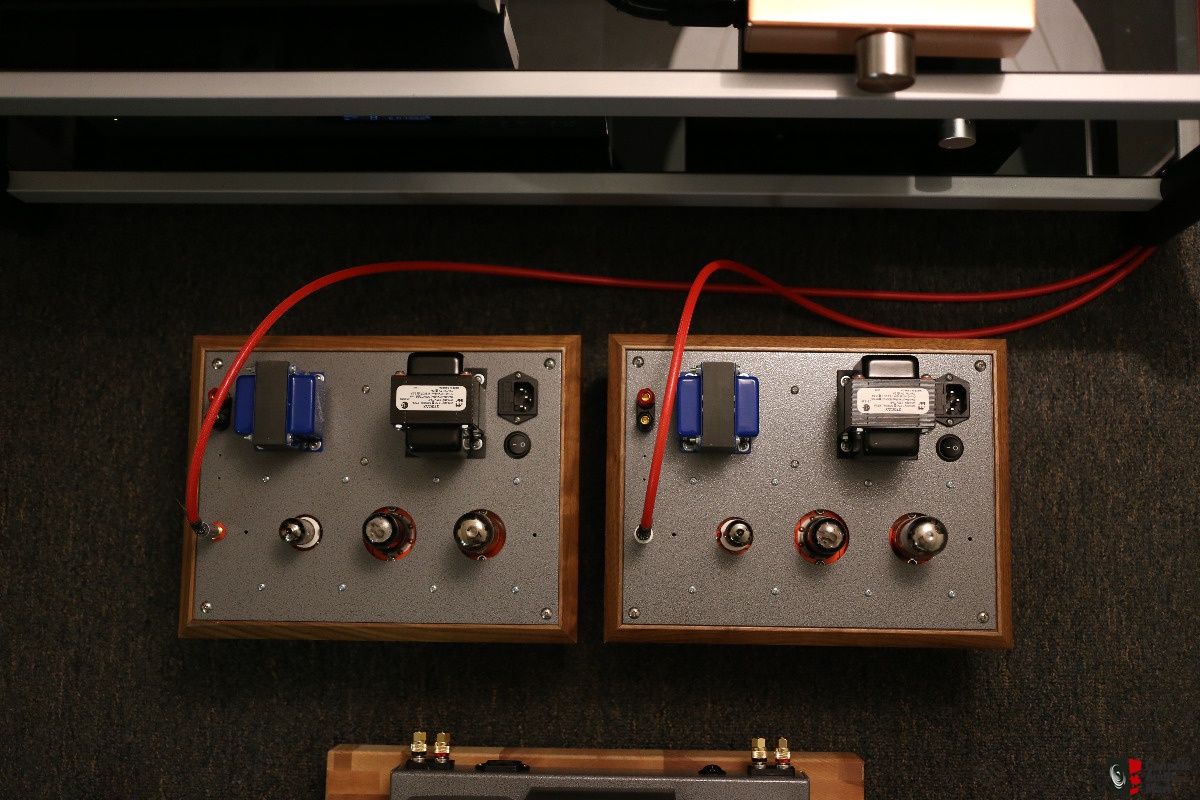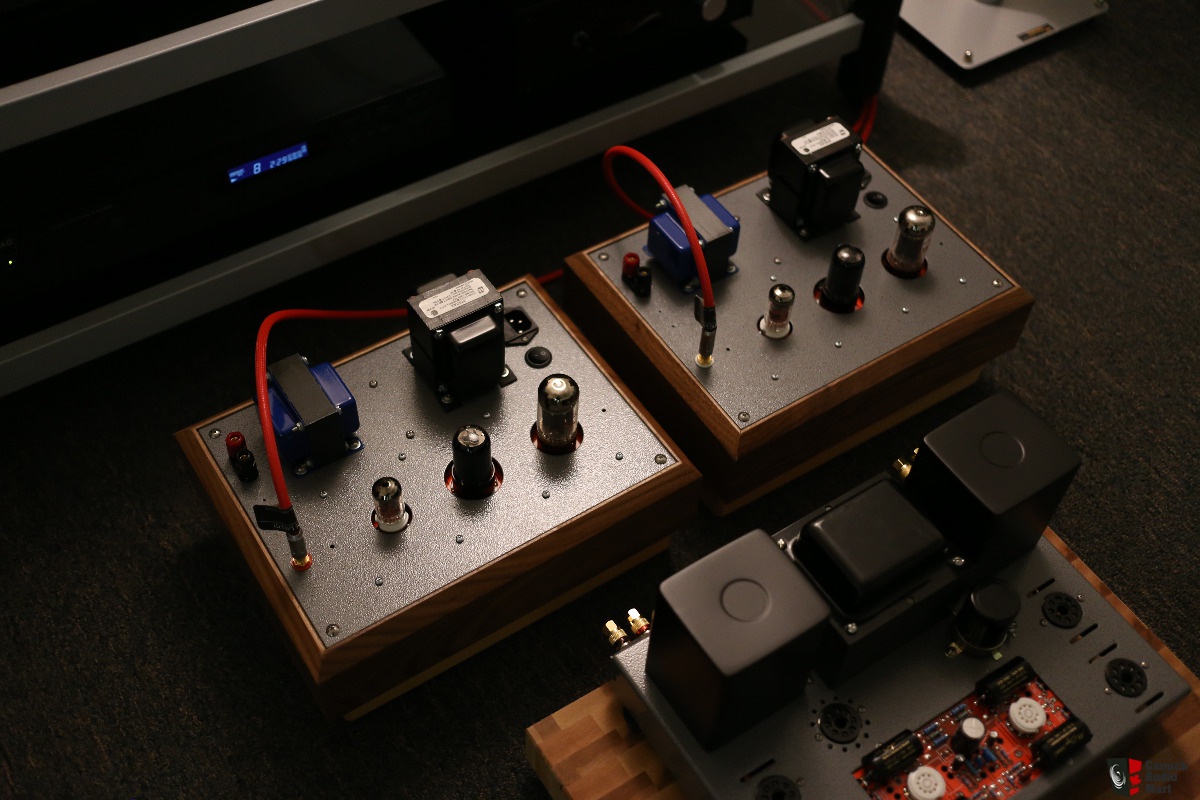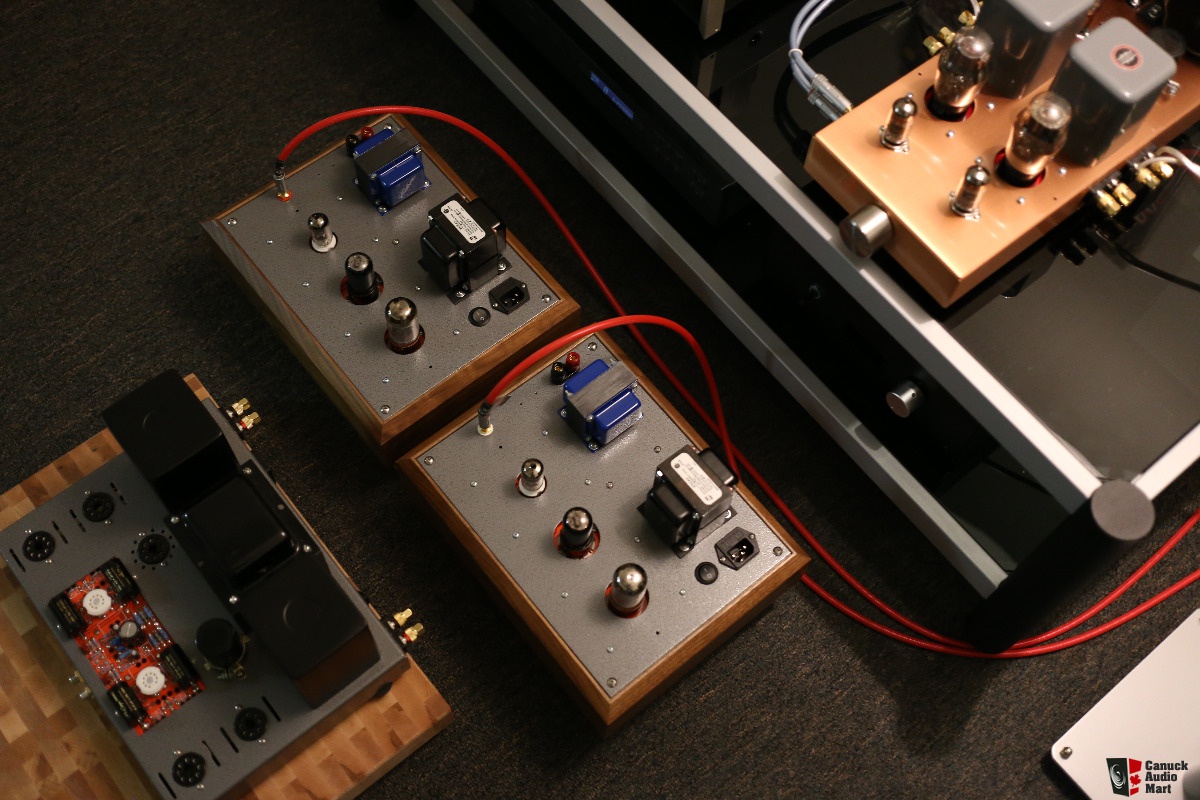 6V6 Mono Blocks Class A 4.5W
The 6V6 tube, when wired in single ended, offers a kind of sound that is very sweet, airy, holographic, one about which everyone dreams in listening tube amps. And when strapped in ultra linear mode, it measures really linear AND gives you some more power, control and speed/attack - perhaps the biggest 4W you are about to experience. In fact, it drove our big Tannoys with two 8" drivers per speaker well and loud enough, which is considered low-efficiency. The best part of the F-6V6M is that the sonic refinement is very high. The quality music playback is better than most 2A3/45 Single Ended Triode amps on the market. The F-6V6M will give you very good money for the run to the rest of the high end low power SE amps, and easily the best 6V6 SE Mono Amps made today!
(Tubes using : 12AX7 - 6V6 - 5AR4/ Block)
$1,899 CAD + Options
Basic : Hammond Canada's Choke / Power Transformer / Mundorf Coupling Caps/ High quality brand name resistors and Ecaps. Hats off to the Edcor USA made Output Transformers! It works, measured, and sounding pretty exceptionally, and unbeatable for its value. 8 Ohms Output Only. The Mono Blocks, measured/recorded max power with 4.9W with 5Ar4 rectifier tubes.
F-6V6M SIGNATURE (3.8W - 4W)
Higher end upgrades including:
Output transformers upgraded to James Corp, with both 4 and 8 ohms speakers output OR Triode Lab P-10 (Used on the 2A3M), with 8 and 16 ohms output
Power transformer upgraded, both higher voltage (from 250V to now 275V), bigger and more cool running (from 100 ma - which already well over sized, to 173 ma)
Cmc Usa GOLD RCA Inputs, Furutech Gold IEC AC Inlet and Mundorf SILVER IN OIL Coupling Caps
Better grounding network design
3 Choices of rectifier tubes : 5W4 / 5Y3 / 5V4
$2,399CAD + Options
Stereo KT66 Push Pull Power Amp (25W)
Class AB (With first 20W in Class A), Ultra Linear Mode
FFX-666 Project :
We intend to build the finest KT66 PP Amplifier on the market today, with the best drivers design, best transformers, and our best methods. Like our fashion, we use the best, what measures best and what's efficient. From the front end, we again adopted the very best pre-amp tubes - the 12AX7, with the best coupling caps - Mundorf Silver. The whole driver/front end circuitry is written onto a PCB board for the most accurate, balanced (L to R), undisturbed way (The whole PCB is grounded and doesn't pick up noise and hum from the air that hand-wiring construction facing). Driving one of the best HiFi tube, aka the KT66s, again with some top of the game Mundorf Supreme Coupling Caps. Here, the power section is handwired due to the higher working voltage and higher heat dissipation. Like most of our amplifiers, the KT66s are running Autobias, it's our fashion and what we believe to be better and suitable for today's standard. In the power supply, like the tradition, it is rectified by the 5AR4 tube, with the main power supply E-Cap to be the high quality Mundorf M Lytics HV for the reliable and quiet supplies delivery.
To be the finest, of course, the transformers are absolutely crucial; even you have the best circuitry design, high grade passive parts and some good tubes, without high end transformers, your music will be contaminated with distortions, higher noise and poorer S/N ratio, worsen and more pronounced phase shifts...etc. The highlight goes to the Hashimoto Classic 30W Rated Output Transformers, its exotic grade handcrafted by the grandfathers who used to manufacture all those Sansui Tube Receivers/Amplifiers, it measures the finest with some best materials and are made to last forever - many of the Sansui amps are still working fine after 50 years of service as of today! And yes, they make some of the best sounding transformers... all the way from Tokyo, Japan.
Does it end here? No! Look at the Power Transformer and Choke Transformer (inside chassis), both are designed and engineered by our sister company- Triode Lab. With the best magnetic design and calculation with our real world experience in making HiFi tube amplifiers (Unlike others, we work OUTSIDE by the books, which enable us to make modern HiFi tube amplifiers suitable for today's high definition music mediums with quality a notch higher than others!) , these two transformers are made to the finest state of quality here in Canada. It is manufactured with real high grade M6 metals (Yes, there are different grades, and most M6 transformers are using the lower grade versions for cost reason), that source from our factory that does private contracting for the military and aerospace industry, only they have the access to obtain these high end materials. These transformers also have proper varnish process done for the most quiet and durable service life span, along with safety tests done. Here, now, you know what defines high-end parts, it can't be made at low costs!
In addition, this is a true FFX Level amplifier, from parts to design. Like all FFX machines, it comes with upgraded FFX level grounding network design, it is very important on a HiFi tube amplifier, like anything else mentioned above, standard grounding networks will work just fine, but we can do this further and better than others. Where and how you design the routes of grounding do not just make an amplifier quieter, but make it sound better! Including wiring routing and channeling, the direction and locations of each signal path and power supply path we ensure they are at the best spot to be. For example, the RCA Input Jacks has a reason to be in the front, which is the closest or most immediate to the Driver/Pre-amp circuitry, because it has the shortest signal path that could avoid any possible lengthy wiring runs that will pickup hum and noise. If like normal amplifiers and located at the back, then now, before any amplifications, your signal has to pass-by the power transformer, choke transformer, power supply and all high tension areas. It is, without a doubt, not ideal to magnify these extra noises that will pickup from these areas.
Other bits including :
Cardas Gold over Rhodium Binding Post (8 Ohms)
Cardas Rhodium RCA
Furutech Rhodium IEC AC Inlet
QQQ Japan Industrial Grade Tube Sockets x 5
Mundorf Silver in Oil Caps x 2, Mundorf Supreme Caps x 4, Mundorf M Lytics HV E-Cap x 1
12AX7 Pair,KT66 QUAD, 5AR4/GZ34 x 1
Upgrade output transformers to Potted version - $300 CAD
Ask about the Push Pull TRIODE version! It sound and perform as good to the finest 2A3PP design!
$3800 CAD + Options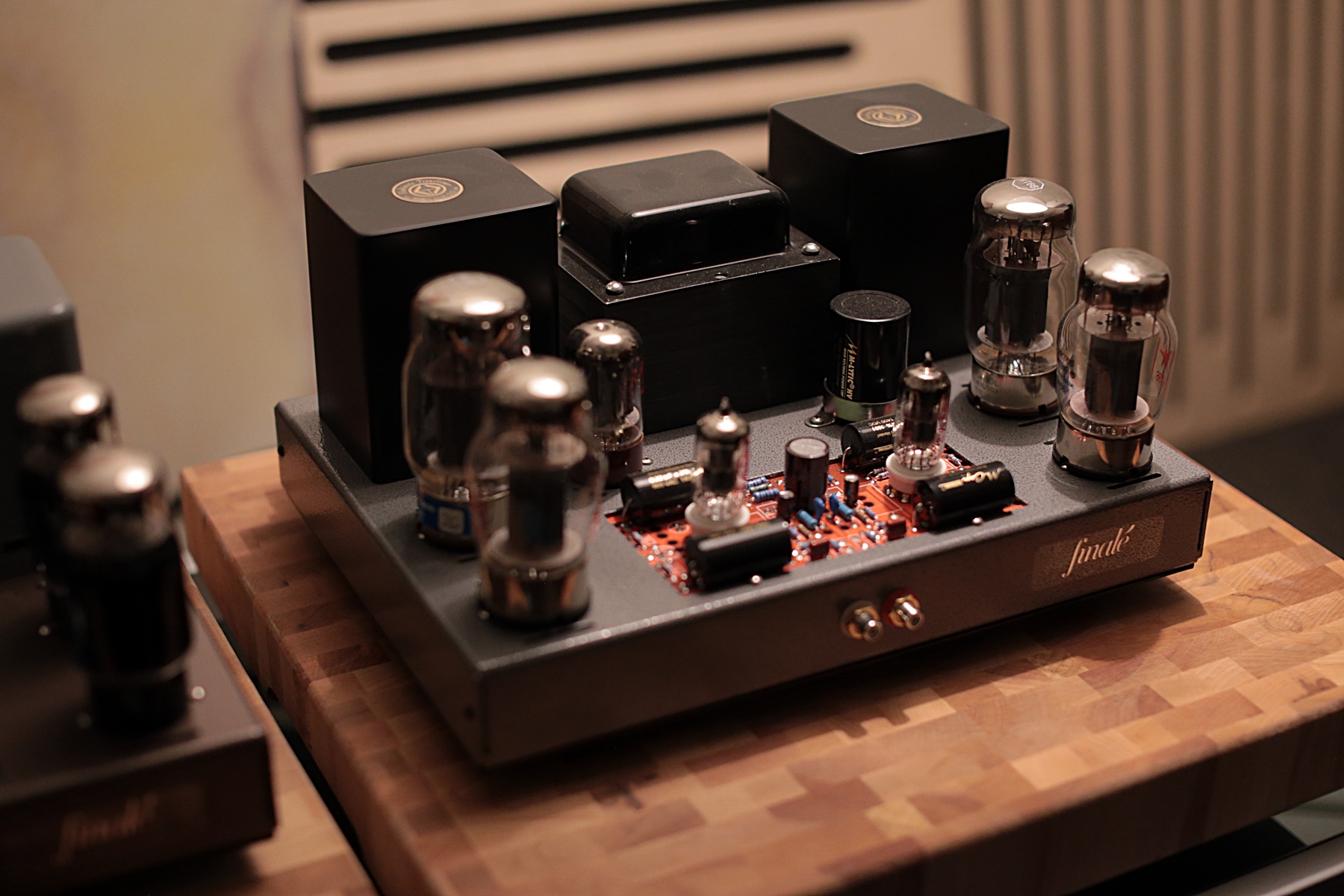 M-12 Classic Horn
I have always wanted a pair of monitor horn kit (2 ways - some say it's the best of both worlds), and even better that it can be ship like IKEA furniture - flat and readily assembled to play without all the hard work. So here it comes! Other than it can be described as a pair of 2-way classic horn (a high quality compression driver + horn and a large 12" woofer) loudspeakers for home high fidelity reproduction (it is designed and voiced for pure HiFi, not for PA, Functions, Telecommunications...and so on, professional uses), the highlight of the M-12 is NOT its the cheapest or best bang for your buck (is there even such thing?), because we only use brand name high-quality European drivers. It will be the special custom acoustic horn lens we will be making for it, which is both cool looking and classicly handsome. With our ability in cooking high-end audiophile equipment, the XO will be the finest play of the balance act between measurement and sound quality reproduction. It, of course, will be something unbeatable for your money. Construction will be using Baltic birch ply, which looks great, even in unfinished condition, which, of course, can be varnished to your liking. Box Size : 14" wide x 20" tall, 14" depth. A heavy-duty stool height stand is recommended. The horn will be placed on the top or outside the box.
$2,999 CAD. including SHIPPING to US/CAN.